Most campers consider the camp stove a must-have or even vital piece of camping gear. 
However, for those campers looking to simplify and downsize their camping, you might want to consider leaving the camp stove behind. 
As camp stoves can add a lot of weight as well as complexity to your camping gear. 
But how do you camp with a stove? 
In order to camp without a stove, you will either need to bring meals that do not require a heat source, prepare and cook meals ahead of time, or prepare and cook your meals over a campfire.
How to Camp without a Stove
Now that we know the three main options for camping without a stove, let's take a look at each option more closely to see what might be the best fit for you and your particular camping needs.
Tip:  Remember though that there is nothing that says you have to choose just one option, as often the best option is a combination of all three when camping without a stove.
No-Cook Meals
If you're looking for the ultimate in simplicity and easy to make meals while camping without a stove, no-cook meals are probably the best option.
As no-cook meals require very little prep time and can be consumed easily while camping or on the go.
This is why backpackers often choose no-cook meals while hiking and camping, as they can easily eat these type of meals while camped for the night or even while hiking along the trails.  
And since there is no heat source required for these meals.
Backpackers don't have the added weight of a camp stove and fuel canisters nor do they have to deal with the challenges that come with campfire cooking.  
No-Cook Meals for Camping and Backpacking
If you're looking for some no-cook camping meal ideas for camping and backpacking, check out these great options.  But remember there are literally hundreds of different options when it comes to no-cook meals.  
Overnight Oats – Overnight oatmeal is a great no-cook breakfast option for those campers looking for a healthy as well as a hearty way start to their day.  For complete instruction on how to make overnight oats as well as 15 different recipe ideas for overnight oats click here.  
Wraps and Burritos – You can put just about anything into wraps and burritos including many options that do not have to be cooked such as beans, corn, cream cheese, hummus, shredded cheese, lettuce, tomatoes, veggies, and even peanut butter and bananas.  
Jerky – Jerky makes an excellent no-cook option for camping and backpacking because it's lightweight and easy to store and is packed with protein, fat, and carbohydrates.  While store-bought jerky will get the job done if you want to make your own at home

click here

to see 100 of the best homemade jerky recipes.  
 Energy and Protein Bars – One of the best no-cook meals for camping and backpacking are energy and protein bars because they are calorie-dense and very easy to store.  If you want to make your own protein bars check out this cool recipe for homemade peanut butter protein bars.  
Tuna on Crackers or in a Sandwich – This easy to prepare meal, just requires canned tuna and your favorite crackers or bread.  And for a little extra crunch consider adding cucumbers or green peppers to the mix.
Prepare and Cook Meals Ahead of Time
Another great option if you're trying to camp without a stove is to prepare and cook most if not all of your meals ahead of time.  As this will save you considerable time and hassle while camping without a stove.
In fact, regardless of whether you're camping with or without a camp stove.  I would recommend prepping and cooking as many meals as possible ahead of time. 
As it will free up a lot of your time while camping, so you can spend more time camping and enjoying nature and less time prepping and cooking meals.  
And if you prep and cook your meals ahead of time.  There really is no limit to what you can eat around the campsite, as long as you have some type of refrigeration or way of keeping the food cold.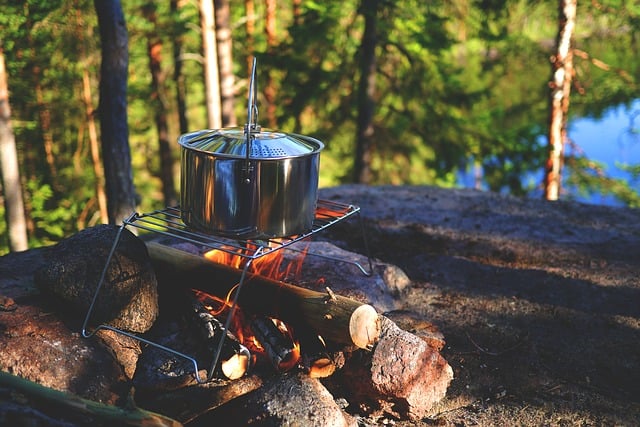 Campfire Cooking
While campfire cooking is far more involved and time consuming compared to the other two options, there is just something satisfying about cooking over an open fire or in hot coals while camping.
If you plan on cooking over a campfire, however, you will need to pack a few extra things in your camping gear to make campfire cooking easier.
The first being a nice heavy metal camp grill to place pots and pans on while cooking over the fire.  As this will allow you to more easily maneuver the cookware over the fire and control the cooking temperature. 
One of my favorite camp grills is the Texsport Heavy Duty Campfire Grill on Amazon thanks to its heavy-duty welded steel construction and affordable price.  
The next important item you need for campfire cooking is some versatile and heavy-duty outdoor cookware that can hold up to the rigors and sometimes extreme heat of campfire cooking.  
Best Cookware for Campfire Cooking
Lodge Cast Iron Combo Cooker – This versatile piece of cookware on Amazon actually comes with two separate pieces of cast iron including a deep 3-quart pan as well as a frying pan that also doubles as a lid to make a dutch oven.   For tips on how to use cast iron over a campfire, check out our article "How to Use a Cast Iron Skillet Over a Campfire".
MSR Stainless Steel Stowaway Pot – For backpackers and campers looking for a lighter and more compact option than cast iron, MSR stowaway pots are a great choice, as they're made from lightweight stainless steel, have a fold in handle for easy storage, and are available in various sizes to accommodate a variety of cooking needs.  
Yodo Anodized Aluminum Cookware – Another lightweight and compact option for backpackers and campers that want to cook over a campfire is this anodized aluminum cookware set on Amazon that comes with several different pots and pans for campfire cooking.  
Tip:  If you don't want to purchase campfire cookware, you can also just cook your meals using tin foil directly in the hot coals of a campfire by making tin foil packets to cook your food in.  
Do I need a Camp Stove?
While camp stoves are a great piece of camping gear to have around the campsite for cooking and preparing meals, they are not absolutely necessary.  As many campers opt to camp without a stove to simplify their camping experience and reduce the size and weight of their camping gear.  
There are a wide variety of foods you can eat and store, even if you don't have access to a stove or a fridge while camping.  
For some helpful tips as well as items you can eat while camping without a stove, check out this YouTube video from Alexandria Tejas, who lives out of her vehicle full time while traveling the country and camping.  
Advantages of Camping without a Stove
Reduces the weight and size of your camping gear, as you can eliminate not only the camp stove but also the fuel canisters the stove runs on.  

Eliminates and reduces your camping and cooking chores.

Simplifies and reduces the number of things that can go wrong while camping.

Save money by not having to buy a camp stove which can cost anywhere from $15 to $250.
Disadvantages of Camping without a Stove
Limits the number of food items and meals you can have while camping.

No hot meals while camping (unless you use a campfire), which can provide a lot of comfort while camping, especially in cold weather.  

Camp stoves provide a more even temperature to cook over as opposed to campfire cooking.

Much easier to control the heat while cooking with a camp stove as opposed to cooking over a campfire. 
How Can I Backpack without a Stove?
Backpacking without a stove is a lot easier than you might think, as it really just requires you to change the types of foods you eat while backpacking.
Opting for foods such as granola, trail mix, nuts, beans, and peanut butter.
As opposed to rehydrated freeze-dried meals from Mountain House like these popular ones on Amazon or other types of easy one-pot meals such as canned chili or beans.  
There are also many benefits to going stoveless while backpacking as well. 
As explained by this avid backpacker that has hiked both the Pacific Crest Trail as well as the Appalachian Trail.
Tip:  Because the food in can goods is already cooked, you could always just opt to eat the food such as chili or beans right out of the can for an easy to eat meal while backpacking.