The type of camping you're doing will greatly impact what type of outdoor cookware you should be using.  For example, cookware at a campground will look vastly different compared to cookware you might use while backpacking or hiking.  
For this reason, I have broken my recommend outdoor cookware into two main categories including campground cookware and backpacking cookware depending on what your camping needs might be.
My Favorite Outdoor Cookware for Campgrounds
When space or weight is not a concern while camping it really opens up the type and amount of cookware you can bring with you on your camping trip.  
Below are some of my favorite and essential outdoor cookware items when weight or space is not the primary concern.  
Lodge 3 Quart Cast Iron Combo Cooker
For me, nothing says camping more than cast iron cooking, while there are certainly many other cookware options that will work when cooking outdoors.  There is just something about cooking over an open fire with cast iron that makes it feel like a true camping trip.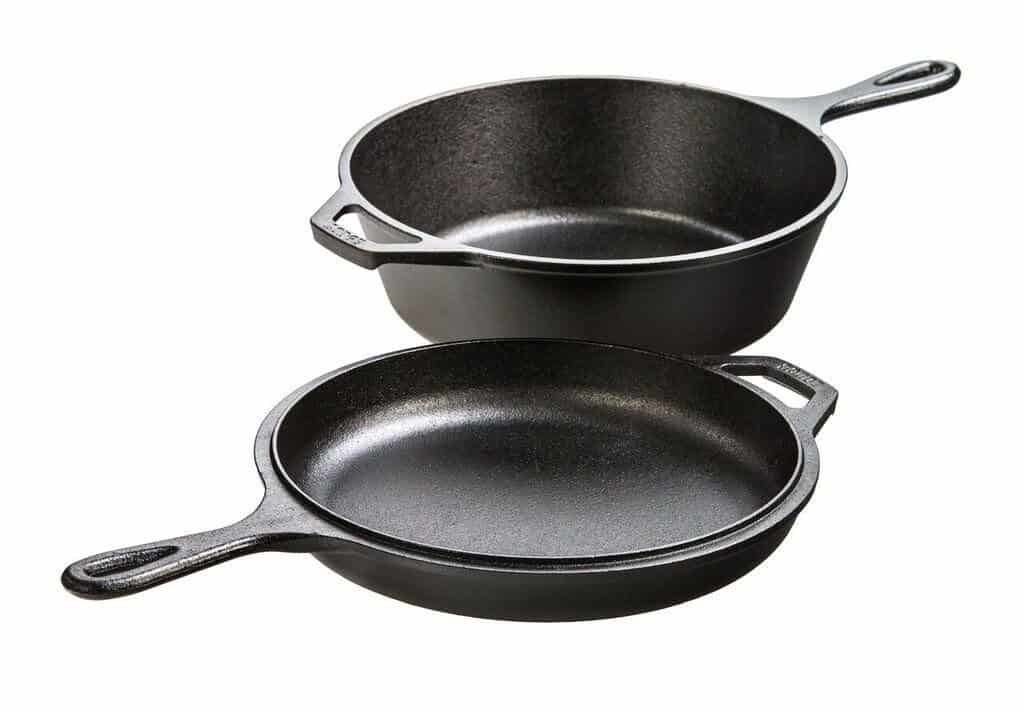 One of my go-to and staple pieces of cookware while campground camping is the Lodge 3 Quart Cast Iron Combo Cooker (link to check price on Amazon) because of its versatility.  As this Lodge combo cooker can act as 3 different cookware pieces including a deep skillet, a fryer, and a dutch oven.
While you can bring most of the kitchen with you when car camping or campground camping I think it's still always important while camping to try to keep things as simple as possible and use camping items that can perform more than one task like this combo cooker.
While Lodge makes a ton of great cast iron products my favorite by far is this cast iron combo cooker but if you don't need or what as much versatility you can also check out their stand-alone 10.25-inch cast iron skillet (see on Amazon) or the dedicated cast iron dutch oven (see on Amazon) which are also both great choices.
GSI Outdoors Bugaboo Cookware Set
If you don't want to have to buy a bunch of individual cookware and dishware items for camping I really like the GSI Outdoors Bugaboo Cookware Set (link to check price on Amazon)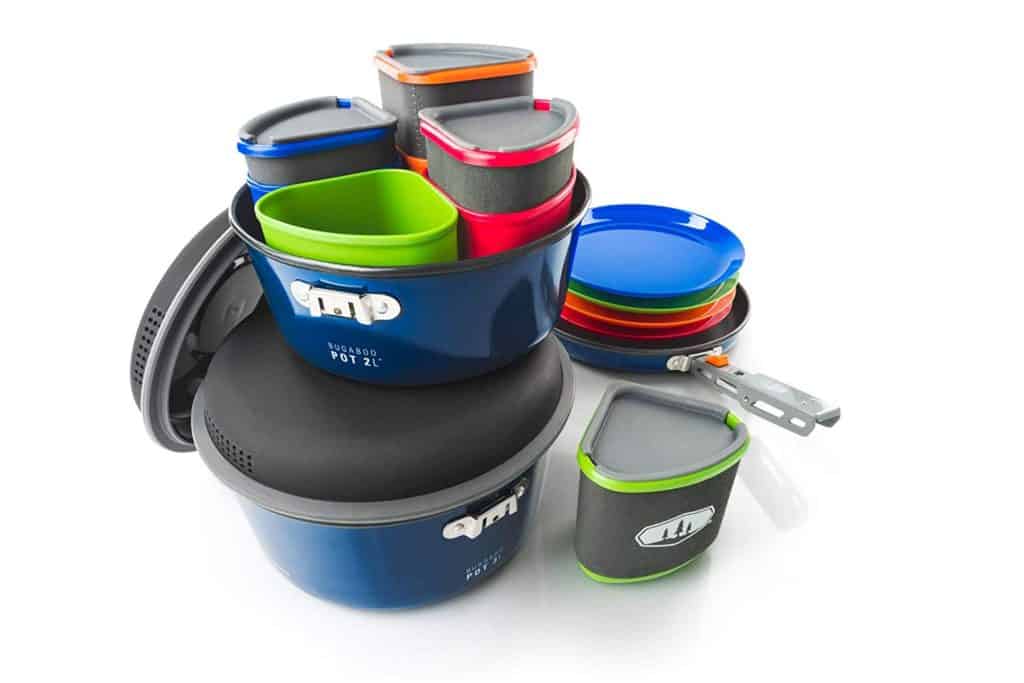 The set literally comes with everything you might need for a family or group of 4 while cooking around the campsite including a 3-liter and 2-liter pot, a 9-inch frying pan, and an assortment of dishware for 4 people.
The only thing you need to add to this complete camping cookware set is some basic cutlery and a few cooking utensils such as a spatula and maybe a pair of tongs.  
Clean up is pretty easy also with this cookware set as the pots and pan are coated with a Teflon non-stick coating to help avoid stuck-on messes also they ingeniously made the sack that holds all the cookware double as a washbasin as well to wash everything up when your done cooking.  
Texsport Heavy Duty Over Fire Camp Grill
While many campsites usually have some type of camp grill I prefer to bring my own as a lot of campsites don't and even if they do have one it usually completely covered in rust or so small that you can hardly do any cooking on it.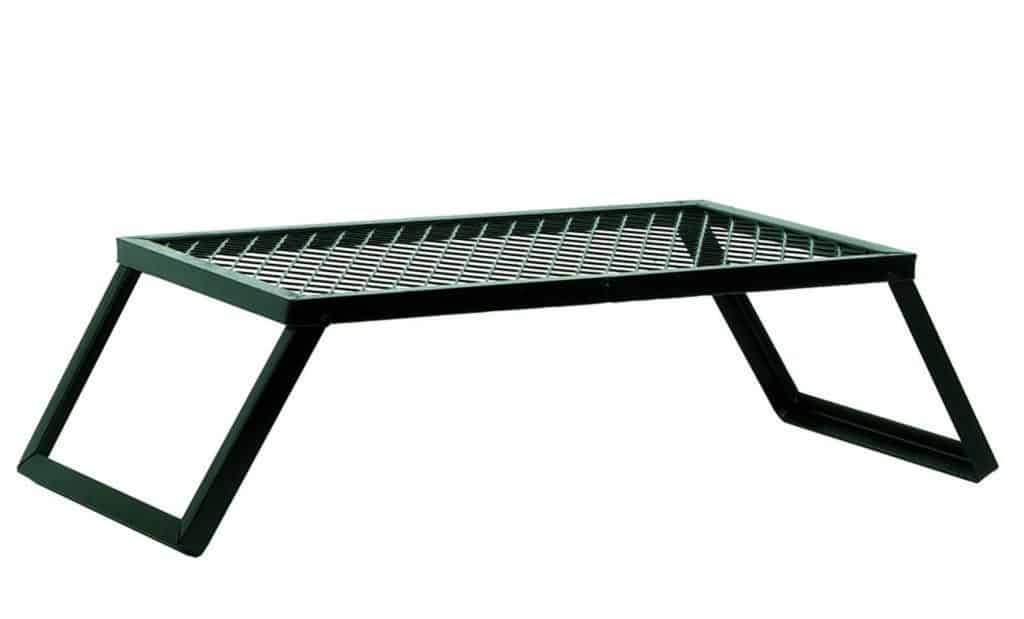 For a nice quality camp grill, my favorite choice is the Texsport Heavy Duty Over Fire Camp Grill (link to check price on Amazon) because of its heavy-duty steel construction and foldable legs making it easy to transport.
The nice thing about the Texsport Heavy Duty Over Fire Camp Grill is that it also comes in three different sizes depending on your needs including the medium (16″ x 12″), the large (24″ x 16″), or the extra-large (36″ x 18″). 
For me, I have found the large size to be just the right fit because it is large enough to cook several different things but at the same time not so large that it becomes hard to move around and set up.  
My Favorite Outdoor Cookware for Backpacking
When backpacking oftentimes weight and space become the primary concerns but this doesn't mean you can't still have a hearty or satisfying cooked meal.
In fact some of this camping cookware that I use for backpacking I also still use for campground cooking because it offers a simpler and easier cooking setup.
1 Liter Camping Cookware Mess Kit
My go-to cookware set for backpacking and hiking is the 1 Liter Camping Cookware Mess Kit (link to check price on Amazon) because of it's compact and thoughtful design.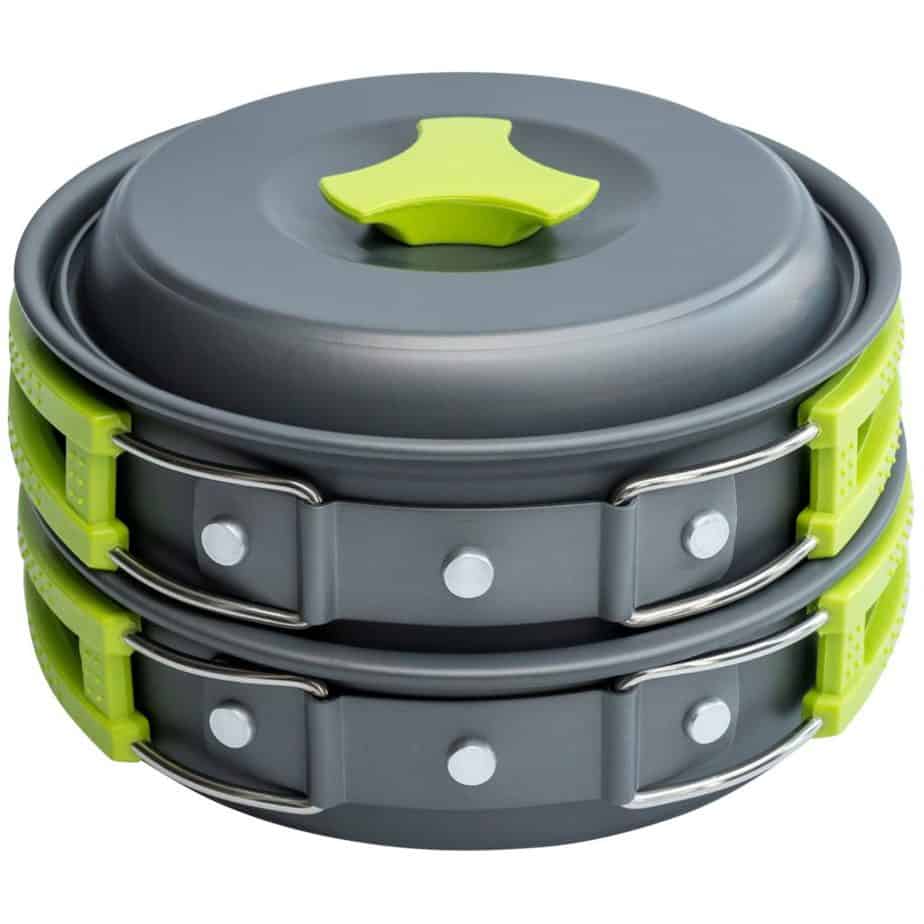 While this mess kit is meant for more simple one-pot type meals it contains everything you will need to prepare a warm and solid meal for one camper.
This mess kit includes 10 different items but to be honest with you I only use a handful of the included items on a regular basis when cooking including the 1-liter aluminum non-stick pot, the non-stick pan, and the included foldable spork. 
Because when I use this mess kit my primary concern is ease and simplicity so I just usually eat the food right out of the pot or pan for simplicity and less clean up after the meal.
3-Piece Titanium Camping Cookware Set
While the above mess kit made from aluminum should get the job done for you for years to come if you are looking to upgrade from the basic aluminum mess kit I would recommend the 3-Piece Titanium Camping Cookware Set (link to check price on Amazon).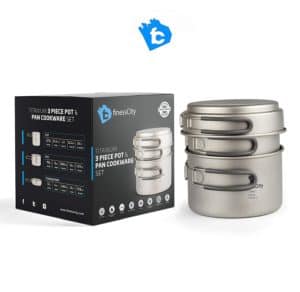 While this camping cookware set is a little more pricey compared to the aluminum one it's not that much more and for the added cost you get a much more durable metal and more sturdy foldable handles.  
Keep in mind though that with this particular cookware set it just comes with as the name implies three items which include a 1.2-liter pot, an 800-milliliter pot, and a 400-milliliter pan. 
For most backpackers, though this is actually preferred because they typically find many of the items in a standard mess kits to be kind of gimmicky and know they won't use most of the items anyways.
MSR PocketRocket 2
Now that we have discussed my favorite backpacking cookware we also need to discuss my favorite source of heat for cooking while backpacking.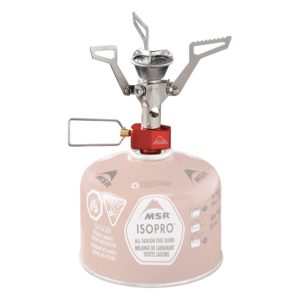 While I'm backpacking my favorite compact camp stove is the MSR PocketRock 2 (link to check price on Amazon) for cooking because of it's ease of use or because there happens to be a fire ban in the area where I'm camping.  
I have tried many different compact camp stoves over the years including the MSR PockRocket 1 and the MSR PocketRocket 2 is the best I've ever used.
From the quality construction to the simple design it's a camp stove that has never let me down and always just works like it's supposed to.
The other nice thing about this camp stove is that it uses a pretty standard fuel canister that you can find easily online or in any camp store.  So if you happen to run out of fuel while camping its very easy to resupply with a quick trip to the camp store.  
If you would like more information on the MSR Pocket Rocket 2 or want to see what it's like in person check out this video on YouTube.