Updated:  January 2021
One of the best things about camping is cooking over an open fire. 
As there is just something about cooking on an open fire that brings you back to a simpler time when life felt more authentic and satisfying. 
However, if you're going to cook over an open fire, not just any cookware will do, because of the harsh conditions and extreme heat of a campfire.
Because of this, we have chosen some of the best camping cookware for open fire and campfire cooking.  
Best Camping Cookware for Open Fire
In our list of best camping cookware for an open fire, we've included several different options to fit a variety of cooking needs and camping situations.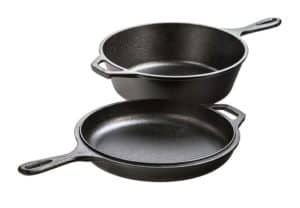 An essential piece of camping cookware for anyone cooking over an open flame is a quality cast iron pot and pan. 
We like this particular cast iron cooker from Lodge because of its versatility and durability. 
As you can use this cast iron combo cooker as a deep skillet, a fryer, or a dutch oven. 
So no matter the meal you're preparing around the campfire this cast iron cooker can surely handle it. 
Plus as an added bonus the lid for the cast iron cooker can double as a shallow skillet or griddle, giving you even more options and allowing you to cook more than one item at a time.  
Also, there's no need to worry about the quality of this cast iron cookware. 
As Lodge has been turning out quality cast iron cookware for generations from their factory in South Pitsburg, Tennessee.  
In fact, the quality is so high on Lodge cast iron cookware that they usually outlast their original owner and often get passed down from generation to generation.  
To see even more quality cast iron cookware great for outdoor cooking, check out our article "Best Cast Iron Outdoor Cookware Every Camper Needs".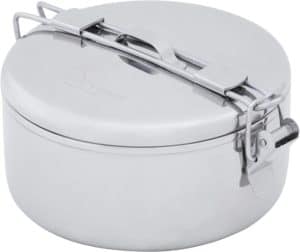 While there is perhaps no better cookware for cooking over an open fire than cast iron, because of its large size and heavyweight it's not always the best option for every camper. 
So if you're looking for a lighter and more compact cooking option for cooking over an open fire, we really like the MSR Stowaway Pot that comes in a variety of sizes including 775-mL, 1.1L, and 1.6L.
This pot is made with stainless steel providing a durable and long-lasting cooking surface that can stand up to the rigors and extreme heat of campfire cooking.  
This stainless steel pot by MSR is also very easy to care for and keep clean around the campsite.  And packs away easily thanks to the hinged foldable handle that locks the lid in place while stored.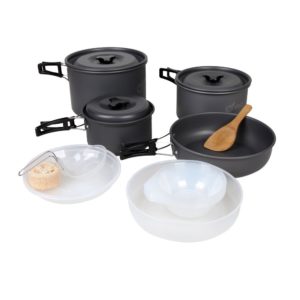 One additional cookware set that we felt deserved a mention on this list is this camping cookware set by Yodo. 
While the pots and pans are on the smaller size this set offers by far the most versatility when cooking around the campfire.  
This cookware set features a nesting design with fold-away handles for easy storage and travel. 
This set also features four pots and pans with an assortment of cooking accessories making it easy to prepare any type of meal while at the campsite.  
The cooking set is made from anodized aluminum so it also provides a lighter option compared to cast iron making it a good solution if portability is a concern. 
As a word of caution though while this product claims to be non-stick many customers have complained that after using the cookware they had stuck on food at the bottom of the pan. 
So if you discover this to be an issue using an ample amount of cooking oil while cooking should solve this problem.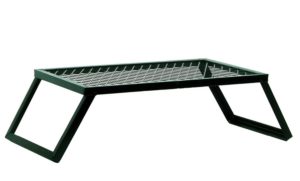 If you're going to be cooking over an open flame then you need some sort of grate or stand to place your pots and pans on. 
We really like the Texsport Heavy Duty Camp Grill which is made from heavy-duty welded steel and is available in three different sizes including medium, large, and extra-large to meet almost all campfire cooking needs.  
Also, thanks to its angle iron design and heavy-duty steel mesh top, it can hold the heaviest of pots and pans with ease including cast iron. 
As an added bonus the steel legs also fold up as well making moving and storing the camp grill an easy endeavor.   
Camping Cookware for Campfires
Camping cookware can come in all shapes and sizes in order to serve a variety of different situations while camping. 
For example, a camper that is backpacking might choose a smaller and lighter option compared to someone that is car camping because size and weight are a big issue for them.  
When campfire cooking or cooking over an open flame the cookware must be able to withstand extreme heat, made from quality materials, and built with solid construction.
The best camping cookware for an open fire or campfire cooking is made from heavier gauge metals that can withstand the extreme heat of campfire cooking. 
Camping cookware also needs to be very sturdy and rugged to provide a safe and stable experience while cooking over an open flame.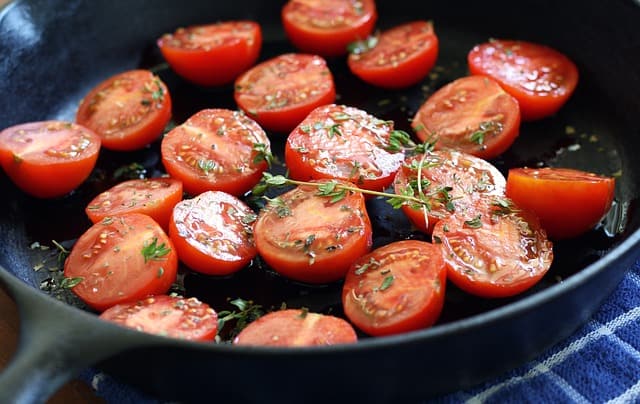 Cast Iron and Everything Else When Cooking Over an Open Fire
There is perhaps no better metal than cast iron when cooking over an open flame or a campfire. 
As the heavy and thick nature of cast iron makes it a perfect conductor of heat ensuring that even the most novice of campfire cookers will prepare a meal that brings hungry campers from miles around.
Cast iron can also be a healthier option to cook with compared to modern non-stick pans that contain PFCs or Perfluorocarbons which can be toxic.  Because of the seasoning and nature of cast iron PFC's are not needed to create a non-stick barrier.    
How to Clean your Cast Iron Skillet
If you have ever wondered what the best way to clean your cast iron is after you have finished cooking, check out this great instructional video on cleaning cast iron cookware.  
Things to Remember When Cooking Over an Open Fire
Be Prepared
As the old Boy Scout motto goes be prepared when cooking over an open fire.  The more prep you can do ahead of time when cooking over a campfire the better.  
Things to prep ahead of time before cooking over an open fire include cutting up and preparing potatoes and vegetables, mixing any sauces or dressings, and making sure you have all the required cooking utensils and ingredients needed.
Patience is a Virtue
Don't try and cook on a brand new fire.  When cooking over an open fire you want to utilize a lower steady heat to prevent burning food or inconsistent cooking heat.  The best type of fire to provide this lower steady heat is a fire consisting mainly of hot coals and a few burning logs.
Be prepared to wait at least 30 to 45 minutes to build a fire that will be appropriate for campfire cooking.
Don't Cook Everything Directly Over the Fire
While it might be appropriate to cook certain items directly over the fire not everything requires such high temperatures and might even burn if cooked directly over the fire.
When cooking over an open fire or campfire make sure to have two separate areas of the fire to provide medium and high heat for cooking different items, much like you might cook on your stovetop at home on medium or high heat. 
To provide these two separate heat zones make sure to have one area consisting mainly of hot coals to provide a medium heat source and another area directly over the flames to provide a higher heat source.
Items best suited for medium heat over coals include vegetables and potatoes in aluminum foil packets and cobbler or pies in a cast-iron dutch oven.  
Items best suited for cooking directly over the fire include boiling water, grilling vegetables, and roasting meats.