Coleman is one of the best tent brands you can buy if you're looking for an affordable, well-made tent, that can handle a variety of weather conditions.
But if your looking for the best Coleman tent for rain this can be a little challenging to figure out.
As Coleman actually makes over 120 different tent variations that come in all different shapes and sizes.
So we did some research to find out which Coleman tent is best for the rain?
And this is what we found out.
The best Coleman tent for rain is the Coleman WeatherMaster Tent, thanks to its WeatherTec system, weather-resistant fabric with waterproof coating, large rainfly with fully taped seams, waterproof bathtub floor, inverted seams, and wind-resistant frame.
If you want to know more about the Coleman WeatherMaster Tent though keep reading.
As we provide the full specs on the Coleman WeatherMaster Tent, as well as a few runners-ups if you're looking for a more affordable Coleman tent that's still great for rain. 
The Best Coleman Tent For Rain:  Coleman WeatherMaster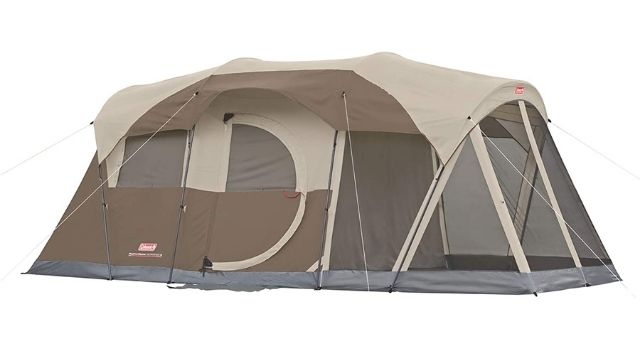 The Coleman WeatherMaster tent is the best overall tent that Coleman makes for rain and is available in both a 6-person and 10-person version.
This Coleman tent is truly the "Cadillac" of tents and has just about every feature you could possibly want and maybe even a few you've never seen before.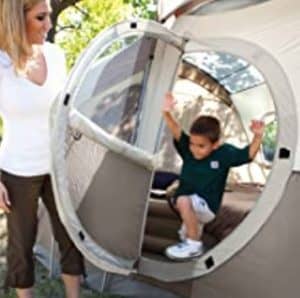 But probably one of the most unique features of this Coleman tent is the hinged door, that swings open for easy entry and exit.
This tent is also loaded with convenience features such as a large screen room to get away from the bugs, numerous storage pockets for all your gear, multiple screened windows for ample ventilation, and even an E-port. 
Which is a small covered opening at the bottom of the tent, that allows you to easily bring an electrical cord into the tent to power all of your electronic devices and even an air conditioner!
And regardless of whether you choose the 6-person or the 10-person version, there is ample room to fit the whole family.
As the 6-person version of the Coleman WeatherMaster tent can fit two queen air beds easily, with room to spare.  
How Much Does the Coleman WeatherMaster Tent Cost?
Colemans WeatherMaster Tent is one of the most expensive tents Coleman makes.  
As the 6-person version of the Coleman WeatherMaster Tent has an average retail price of $240, while the 10-person version has an average retail price of $280.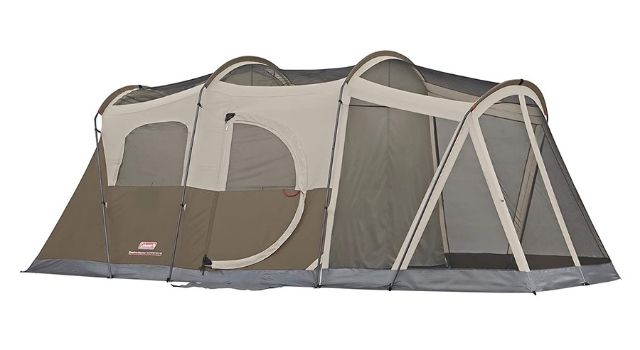 Why the Coleman WeatherMaster Tent is the Best Tent for Rain
While Coleman makes many great waterproof tents, we felt like the Coleman WeatherMaster Tent really went above and beyond when it comes to weather and rain protection.  
Thanks to Coleman's WeatherTec® System, as well as numerous other features that makes this tent the best choice for rain and wind.  
Large Rainfly with Fully Taped Seams – Large rainfly covers all doors and windows of the tent and is made from 75-denier polyester taffeta.  
Weather-Resistant Fabric – The tent uses a weather-resistant fabric that is coated with a waterproof coating and is made from an anti-wicking thread and webbing to prevent water from wicking through.
Protected Seams  – All seams are inverted, which hides the needle holes where the pieces of fabric are joined, helping to prevent water from leaking in. 
Fully Covered Zippers – All zippers on the tent have zipper cuffs, which is a layer of fabric over the zipper that prevents water from entering.
Bathtub Floor – The bathtub floor on this tent greatly reduces the likelihood of water seeping in.  As the bathtub design moves the bottom seam of the tent up about 6 inches onto the sidewall, to prevent groundwater from entering through the bottom seam.  
Wind-Strong Frame – Coleman went to great lengths to make the tent as strong and stable as possible in wind or thunderstorms by engineering the tent poles to be stronger and using a unique guy-out triangle design to anchor the tent and increase performance.  
Other Coleman Tents that are Great for Rain
While the Coleman WeatherMaster Tent is the best Coleman tent you can buy for rain, it's not the only Coleman tent that's great for rainy days and harsh weather.
In fact, Coleman makes a wide range of tents that do a great job of keeping you dry no matter how hard it might be raining outside.
So we put together the below list of runner-up Coleman tents that also do very well in rain and harsh weather.  
Coleman Sundome Tent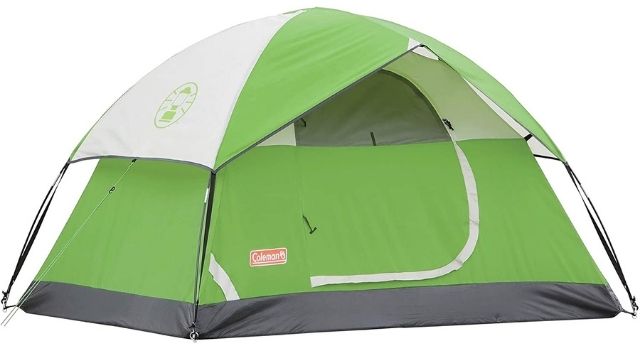 Average Retail Price:  $80
Sleeping Capacity: 2-6 (Depending on Size)
Waterproof:  Yes
The most popular tent Coleman makes without a doubt is the classic Coleman Sundome Tent, which currently has a 4½ star rating on Amazon with almost 30,000 reviews.  
The reason why the Coleman Sundome Tent is so popular on Amazon and elsewhere is because it's just a really solid well-built tent at an affordable price.  
The Coleman Sundome also offers many of the same weather protections that the more premium Coleman WeatherMaster Tent does including Coleman's WeatherTec® System but at a fraction of the cost.
And while you won't find many advanced features liked hinged doors, large vestibules, or screen rooms on this basic tent, what you will find is everything you need to stay nice and dry and protected from the elements while camping. 
Another great thing about this tent is that is super easy to set up and take down, as you can actually set this tent up in as little as 5 minutes.  
---
Coleman Montana Tent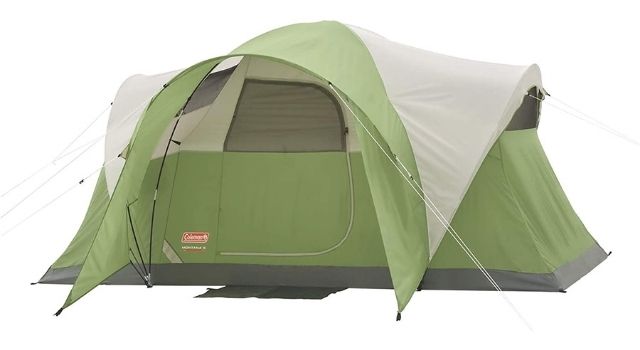 Average Retail Price:  $130
Sleeping Capacity: 6
Waterproof:  Yes
When you're ready to move beyond the most basic of Coleman Tents and looking for a tent that offers more room and comfort features, then you should definitely check out the Coleman Montana Tent. 
As this tent from Coleman not only offers excellent protection from the rain and wind but also includes many high-end features including a large rainfly with an extended dry awning as well as angled windows that let you keep them open even while it's raining.
And if you need a lot of space this tent has you covered, as you can actually fit two queen-sized air mattresses in the tent with room to spare.  
So no matter how big your family is, everyone should easily be able to fit in the Coleman Montana Tent.  
---
  Coleman Skydome Tent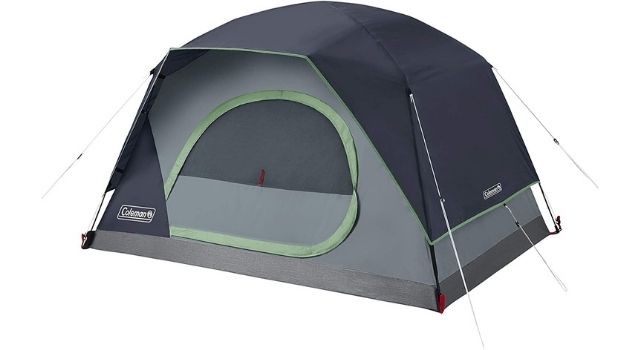 Average Retail Price:  $80
Sleeping Capacity: 2-8 (Depending on Size)
Waterproof:  Yes
The Coleman Skydome Tent is a great choice if you're looking for a tent with more headroom.
As its unique design provides 20% more headroom compared to more traditional dome-style tents.
Making it way easier to stand up and move around inside the tent.   
But this unique design feature is not the only thing that the tent has going for it.
As it also offers a ton of great waterproofing and weather-resistant features that make this tent great for rainy days including welded corners, inverted seams, large rainfly, strong frame, and bathtub style floor.
And just like the Coleman Sundom tent, you can actually set this tent up in as little as 5 minutes.  
Are Coleman Tents Waterproof?
All Coleman tents are waterproof, which makes them an excellent choice if you're looking for an affordable tent that can handle an occasional rain or thunderstorm while camping.
However, it's important to keep in mind that there are degrees of waterproofing and while Coleman tents are waterproof, they are certainly not the most waterproof tent you can buy.
As Coleman tents usually have a 3-season rating instead of a 4-season rating, which is the most waterproof and weather-resistant tent you can buy.  
But that's not necessarily a bad thing, because while 4-season tents are the most waterproof tent you can buy, they often come with several trade-offs that don't always make them the best choice when you're looking for a waterproof tent.  
For example, because 4-season tents have to be able to withstand the most extreme of weather conditions, they typically have a full rainfly that extends all the way to the ground.
Making them a poor choice for summer camping, as they would be extremely stuffy and uncomfortable in warm weather due to their lack of ventilation.  
In addition, because 4-season tents are more heavily engineered, they typically cost substantially more compared to 3-season tents.  
So even though the 3-season Coleman tent is not the most waterproof tent you can buy, they are usually the best choice for the average weekend camper that's looking for a quality waterproof tent that can handle a variety of weather conditions and outside temperatures.  
How Coleman Waterproofs their Tents
Coleman goes to great lengths to ensure that their tents are as weather-resistant and waterproof as possible.
As you can see from the video above, which shows the extreme testing that Coleman performs on all their tent designs.  
But how does Coleman waterproof their tents?
To start with Coleman applies a polyurethane waterproof coating treatment to all their tent fabrics, which provide a waterproof rating of 1000mm.   
However, Coleman doesn't just apply a waterproof coating to the tent and call it a day.
As they've also added a lot of design features to their tents to ensure their tents are completely waterproof no matter how hard the rain is falling or the wind is blowing outside.
And all of these weather-resistant and waterproofing features on a Coleman tent are part of the Coleman WeatherTec® System.
Coleman's WheatherTec System
Weather-Resistant Tent Fabric made from Anti-Wicking Thread and Webbing

Patented Waterproof Tub Floors with Welded Corners and Floor Seams

Fully Taped Seams on the Rainfly

Inverted Tent Seams

Strong Frame Design with Shock Cord Poles that can Withstand Winds of Up to 35mph

Full Zipper Cuffs on all External Zippers
Do Tents Need to Be Waterproofed?
3-season and 4-season tents will usually be fully waterproofed and do not require additional waterproofing.
However, there are many cheaper tents with a 1-season or 2-season rating that are not waterproofed by the manufacturer and would require waterproofing in order to be used in the rain.
But the waterproof coating on even a 3-season or 4-season tent will fade over time due to sun and weather exposure, which will require you to re-waterproof your tent every few years or so depending on how often you go camping and use the tent.  
How Do You Waterproof a Tent?
There are two main products that you need in order to fully waterproof a tent which include water repellent spray and seam sealant.
Water repellent spray is used to waterproof larger areas of the tent such as the rainfly, while seam sealant is meant to provide an extra layer of waterproofing to the tent seams, as the seams of a tent are often the first to become comprised.  
Popular Waterproofing Products
Kiwi Camp Dry Heavy Duty Water Repellant Spray – Check Price on Amazon
Gear Aid Seam Grip Sealant for Tents – Check Price on Amazon
For a complete step-by-step guide on how to waterproof a tent check out this excellent how-to guide on REI's website.