Updated On:  5/26/2021
Summer is one of the best seasons to go camping, thanks to its long days and warm weather. 
One major drawback to summer camping though is an often hot, stuffy, and uncomfortable tent, especially when trying to fall asleep. 
However, just because you're camping in a tent, doesn't mean you can't enjoy the comforts of air conditioning.  
If you do plan to air-condition your tent though, there are several key elements that you must have to ensure maximum comfort and ease of operation. 
The key elements of a tent air conditioning system include an air conditioner, a tent with an AC port, a reliable electrical source, and a stand for the AC.  
Tent Air Conditioners
When considering camping AC there are two main types of air conditioners to choose from that are best suited for air conditioning a tent, which includes the window AC unit or a free-standing air conditioner. 
Window AC Units and Tents
The most common and recognizable option for tent air condition is a window air conditioning unit.  If you choose to go with a window air conditioner though it's best to go with a smaller sized unit.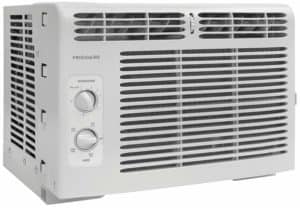 There are two reasons for this, the first is that you will obviously have to transport and move this AC unit around, so the smaller the better.  The other reason to get a smaller window AC unit is that they will typically have fewer BTU's which will prevent the tent from becoming too cold or damp inside.  Because even though a tent is not very insulated it is a very small space and using a large window unit meant to cool a large room can overwhelm a tent with cold air.
Our favorite window tent air conditioner is the Frigidaire Mini-Compact Air Conditioner, which you can check out on Amazon by clicking here because of its small size, low BTUs, and ease of use.  
Free Standing Air Conditioner and Tents
The other type of air conditioner that can be used with tents is a portable or freestanding air conditioner.  With these AC units instead of the air conditioner hanging off the side and outside of the tent, the unit actually sits inside the tent and comes equipped with a hose that runs outside.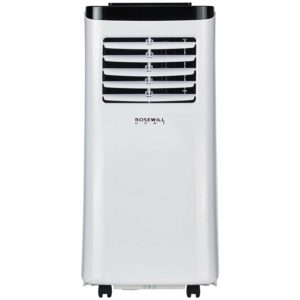 We like these types of air conditioners for tents because of their stealthiness and the fact that they do not require a tent with an AC port. 
With a free-standing air conditioner, the only thing visible on the outside of the tent is a small hose that can be run outside of any hole that can accommodate a 6 or 8-inch hose.  Having a stealth tent air conditioner is beneficial because it doesn't attract unwanted attention and reduces the chances of theft. 
Another advantage of the free-standing AC unit is that they do not require an AC stand as they sit directly on the ground. 
One drawback though to free-standing AC units when it comes to tent camping is that they take up precious interior space of a tent. 
Our favorite free-standing air conditioner for tent camping is the Rosewill Portable Air Conditioner, which you can check out on Amazon by clicking here because of its smaller size and lower BTU's
Do You Need A Tent with AC Port?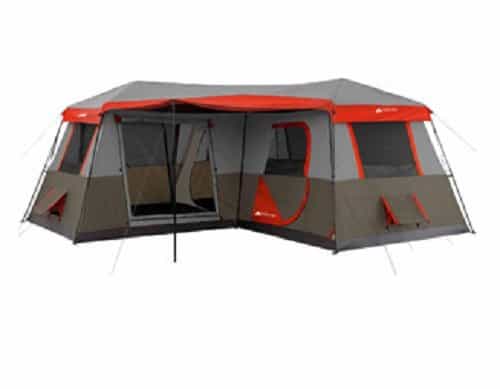 If you are going to use a window AC unit for camping AC then yes, you need a tent with an AC port that will allow you to attach the window AC unit to the side of the tent.  There are a couple of different ways to accomplish this but the best and easiest approach is to purchase a camping tent with an AC port or AC flap already built into the tent.
The two best tents with AC ports that we found include the Ozark Trail 12-Person 3 Room Instant Cabin Tent, which you can see on Amazon here, or the Bushnell Shield Series Instant Cabin Tent, which you can see on Amazon by clicking here.
Both of these tents include an AC port that can also double as ground ventilation if you opt not to use the air conditioner on a particular camping trip.  It's this versatility that makes these tents such a great choice because it allows you to close up the AC flap when using the tent in the spring or fall when camping AC is not necessary.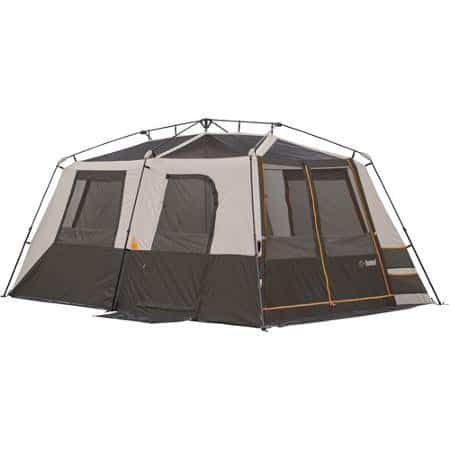 The other way to have a tent with an AC port is by cutting a hole in the side of your tent and DIYing a camping tent with an AC port. 
However, this is not for the faint of heart and there is no going back once you cut a hole in the side of your tent. 
If you do choose to go this root make sure to take your time as you only get one shot at cutting the right size hole in the side of your tent and don't forget to seam the edges of the hole to prevent fraying of the tent material.
Electric and a Camping AC Stand
The final two considerations for camping with air conditioning is a reliable source of electricity and an AC stand.  
As air conditioners use too much electricity to run them practically from batteries or solar power while camping. 
Because of this, a reliable source of 120V electricity is a must when camping with air conditioning.
(If you don't have access to 120V electricity while camping, you might want to consider an evaporative cooler or swamp cooler instead of an air conditioner, as they use 75% less power than a standard AC unit and can run off of batteries.)
For more information on portable evaporative coolers and how they work, check out our article "Will an Evaporative Cooler Work In a Tent? Answered".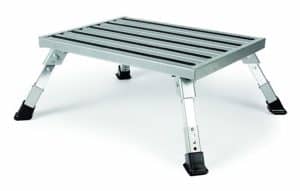 Also, if you plan to use a window unit to cool your tent then you must use some type of AC stand to support the weight of the air conditioner. 
As tent walls are too flimsy to support the weight of an AC unit by themselves. 
And while anything can act as an AC stand when tent camping such as a milk crate or a storage tote, if you're looking for a more professional-looking installation, the Camco Adjustable Height Aluminum Platform Step, which you can see on Amazon by clicking here, is a great option.
Camping AC Requires Trial and Error
When working on your tent camping AC setup it's important to remember that tent air conditioning is not an exact science and will require some trial and error to find the best setup for your particular camping needs.  
To illustrate this, check out this Youtube video on tent air conditioning that discusses some of the modifications that might need to be made to ensure maximum comfort from your tent AC.  
Want even more information on how to air conditioning a tent?  Check out our other article on air conditioning a tent "Top Camping Air Conditioner – Buyers Guide".