If you've been shopping for tents recently, whether online or in the sporting goods stores you more than likely have come across a lot of Coleman tents.  You might be wondering though just How Good are Coleman Tents and are they worth buying?
To help answer this question I wrote this article, as I have been camping for over 20 years and have owned several tents with several of them being Coleman's.
The quick answer is that Coleman tents while not the best on the market, are generally very good tents for the average camper, as they are well made, hold up well over time, and are priced affordably.  In addition, with over 60 different Colemen tent models to choose from, most campers no matter their needs or preferred style of camping can usually find a tent that fits their specific needs.

How Good are Coleman Tents?  Detailed Review
In the rest of this article, we will be taking a more in-depth look at Coleman tents, to see how well they stack up against other tent brands.  By looking at things like their construction, fabrics, as well as their setup, and features to find out just why Coleman tents are so great.
Coleman Tent Construction
While there are variations to the skeletal structure of the Coleman tent depending on the style of tent, most Coleman tents use an X style layout which places one end of a pole at each corner of the tent and crosses the poles in the middle creating the highest point at the center.  
The reason why this type of skeletal structure is used so often by Coleman is that it just works and works well for the structural ingenuity of the tent.  In fact, it works so well that Coleman boasts their tents can actually withstand winds up to 35 mph.  
In addition, Coleman tent frames use an interconnected fiberglass tent pole that easily breaks down into separate sections but always stays partially connected using an elastic cord material.  Making the tent poles easy to store as well as easy to connect and take apart.  
Coleman Tent Fabrics
While older Coleman tents commonly used canvas for their tent fabric, all modern Coleman tents use a polyester fabric because of its durable and lightweight properties.  
Durability
One of the most common terms used when describing tent fabric is the term denier (pronounced den-yay), which describes the thickness of the yarn used in the fabric.  The important thing to know about denier when it comes to tent material is the higher the denier number the thicker and more durable the tent material will usually be.
The most commonly found denier numbers on tents is either 75D or 150D and Coleman falls right in line with this, as most of their tents use a polyester tent fabric that has a denier number of either 75D or 150D depending on the model. 
This means that Coleman tents are made from tent fabric that is just as reliable and durable if not more so than most other tent manufacturers.  
Waterproofing
Another common rating for tent fabrics and tents is its waterproof capabilities or its waterproof coating.  While you might think the fabric is what provides the tents waterproof capabilities, in actuality, polyester, as well as canvas and other common tents materials, are not waterproof by nature.
Instead, the tent materials are waterproofed by the manufacturer by applying a waterproof coating to the surface of the tent.  However, just like everything else, there are degrees of waterproofing when it comes to tents and how waterproof they are.  With the cheapest tents having little to no waterproofing and the high-end tents having extreme waterproofing capabilities.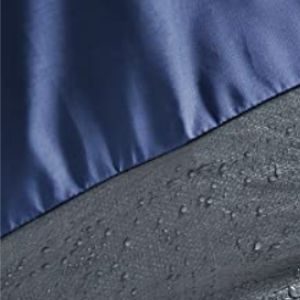 The thing to understand about a tent's waterproof coating is the higher the coating number the more waterproof the tent will be.   
So when you are looking at tents you ideally want to see at least a 1000mm waterproof coating on the floors, however, on the tent's rainfly you can usually have a lower number and still be okay because  pressure is not being applied directly to the fabric by walking or laying on it.  
The great news is that while Coleman tents are not the most waterproof tents on the market.  They make great 3 season tents and tend to receive high marks for their waterproofing.  Mainly thanks to their 1000mm waterproof coating as well as what they call their WeatherTec™ System that uses construction techniques such as a tub-like floor, patented welded corners, and inverted seams to help keep the water from getting inside the tent.  
Coleman Tent Set-Up
Coleman tents tend to be some of the easiest tents to set up, as they have had years to perfect the designs of their tents. 
In fact, most Coleman tents can be set up with just one person in about 10 minutes.  However, in fairness having two people to set up the tent, certainly makes the process go a lot smoother and easier. 
And for those compers that feel like 10 minutes is just too long, Coleman actually sells a line of instant pop-up tents that can be set up in as little a minute.  
To get a better idea of what it's like to set up a typical Coleman tent, take a look at this quick video that shows how to set up their Sundome model which is one of their most popular tents.  
Common Coleman Tent Features
Coleman tents tend to be some of the most feature-rich tents on the market.
In fact, there are many features on a Coleman tent you would be hard-pressed to find on a tent from another manufacturer. 
Below we have included some of the more unique as well convenient features typically found on Coleman tents.
WeatherTec™ System
While most tents have some level of waterproofing, Coleman really takes it to the next level with their trademarked WeatherTec™ System.  Which helps to ensure that water stays on the outside of your Coleman tent even in the most extreme of conditions, using such things as patented welded corners, covered and inverted seams, as well as a unique lower bath-tub design.  
And if you still have doubts about how serious Coleman takes their weatherproofing and waterproofing, just check out this video that shows what Coleman subjects their tents to in their testing phase.
Enhanced Ventilation
Coleman also put a ton of thought into ventilation to help keep you cool even when the mercury starts to rise during those warm summer nights by using enhanced ventilation.  
This is basically a system that helps to ensure maximum airflow through the tent using multiple large screened opening as well as ground vents that helps to push warm air up and out of the tent.  
E-Port
With the E-Port feature, it makes it a breeze to bring an outside extension cord inside the tent to power a fan or all of your electronic devices by having a small covered slit at the bottom corner of the tent to bring a power cord through.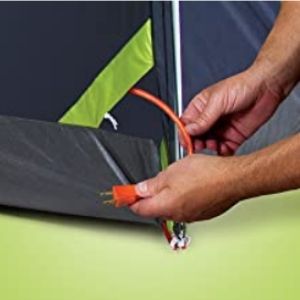 While a simple design feature the E-port is a prime example of just how far Coleman goes in trying to make sure they think of everything to make their tents as comfortable and convenient as possible for camping. 
Ample Storage Pockets
While most tents will have a few storage pockets for your camping gear, Coleman really goes the extra mile with storage.  By providing multiple storage pockets throughout the tent to make sure you have ample storage space for all your camping gear.  
Which Coleman Tent is the Best?

It's hard to pick just one Coleman tent as their best, as they make a wide variety of tents to accommodate just about every camping party size as well as style of camping.  With tent sizes ranging from a basic small 2 person dome tent to a large cabin style tent that can accommodate up to 8 people plus gear. 
However, we have listed some of the most popular and our favorite Coleman tents currently on the market today, to help narrow down your search when looking for the best Coleman tent.  
Coleman Sundome Tent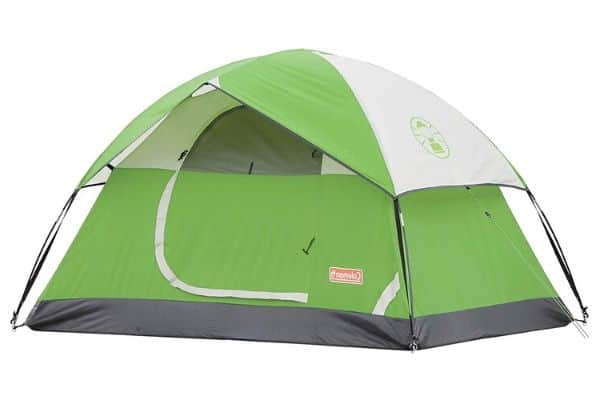 One of our favorite and perhaps one of the most popular Coleman tents of all time, as it has over 22,000 reviews on Amazon, is the classic Coleman Sundome Tent.  
This tent comes in a variety of sizes starting with a 2 person version with dimensions of 6 feet 10 inches by 4 feet 11 inches all the way up to a 6 person version with dimensions of 10 feet by 10 feet. 
The Sundome tent also comes in two different colors including the light green version pictured above as well as the blackout version that is navy blue and grey.  
This tent is great for the average weekend camper that is looking for a basic, well-made, and quality tent at an affordable price.
Coleman Cabin Tent with Instant Setup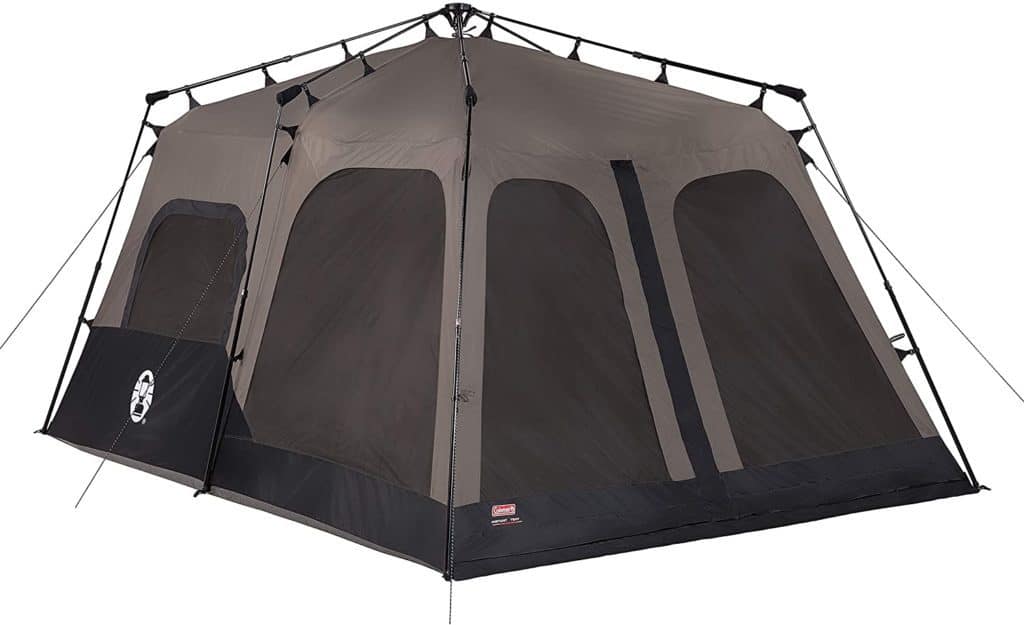 If size and convenience are what you are looking for in a tent, then you definitely want to take a closer look at this large Coleman Cabin Tent with instant setup.
This tent can accommodate up to 8 campers at a time with dimensions of 14 feet by 10 feet with a center height of 6 feet 7 inches.  While this tent as you can imagine is on the bulkier side and meant for car camping only.  If you're looking for a tent that will be the envy of all your camp neighbors that can accommodate your entire family or camping party, then this tent should be at the top of your list. 
In addition, this cabin tent also happens to be a part of the instant tent lineup that Coleman has.  Meaning you basically can just pull the tent out of the bag, unfold and extend the already connected poles, and stake the guy lines, and you're ready to camp. 
Also, the amazing thing is that even as large as this tent is, you can actually set the tent up in just about one minute.  
Coleman Montana Tent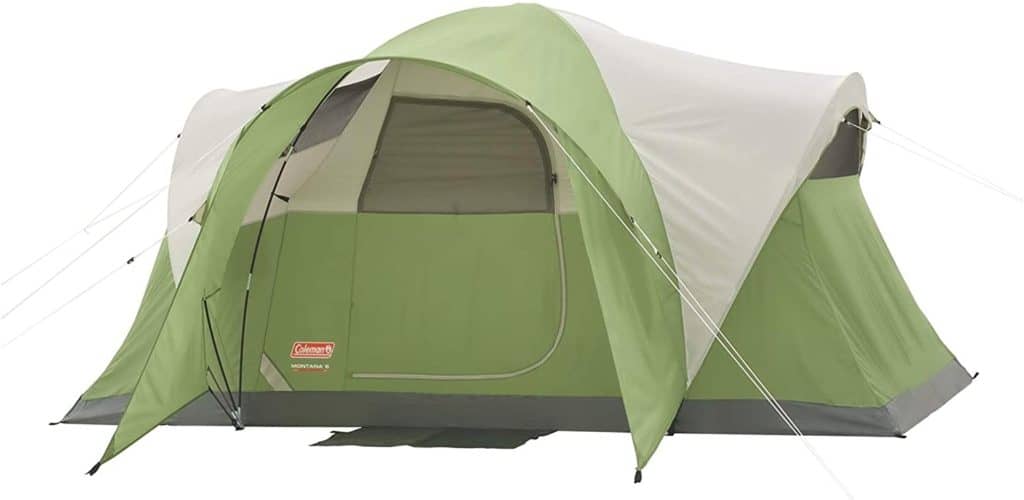 If you're looking to upgrade beyond the basic Coleman Sundome Tent and need a little more space inside the tent, then you might want to consider the upgraded Coleman Montana Tent. 
This tent can fit up to 6 campers at a time, with dimensions of 12 feet by 7 feet with a center height of 5 feet 8 inches.  So there is more than enough room for a good size camping party with room to spare as this tent can actually accommodate 2 queen size air mattresses.  
Also, this Coleman Montana Tent has an extended awning over the doorway which helps to keep boots and gear dry even if the weather turns sour.  
While this tent is a little heavier and usually takes a little longer to set up than the standard Sundome Tent, once it's set up at the campsite and you're able to enjoy it, it's more than worth the extra effort.