If you're new to winter camping, you might be scratching your head trying to think of things you can do while winter camping?
The good news, however, is that there are actually tons of activities and sports you can do while winter camping, some of which you can only do in the winter.  
So without further adieu, let's take a look at the Top 18 Things to do While Winter Camping.
1. Winter Hiking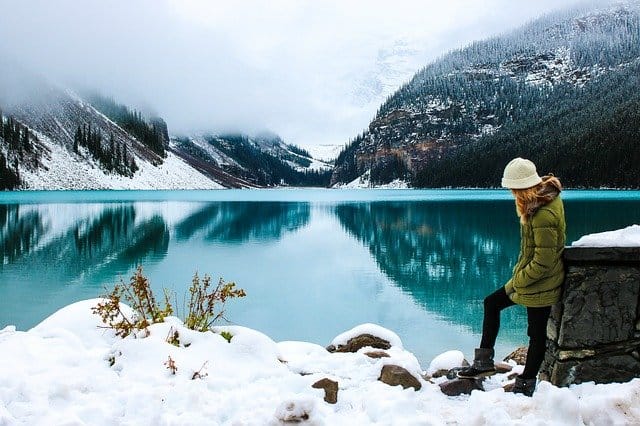 Winter hiking is one the most popular and fun things to do while winter camping and is one of my personal favorites.  
Because while most people only think about hiking during the summer months and perhaps during late spring and early fall.
The winter months in my opinion are some of the best months for hiking.
Advantages of Winter Hiking
Hiking trails are far less crowded in the winter than they are in the summer, as you will often be the only one on the trail, which can make for a far more enjoyable hiking experience.

Provides a completely different hiking experience compared to summer hiking as the same trail can look completely different and offer new challenges.

Hiking in the winter allows you to avoid hot and muggy weather that can make hiking more challenging and less enjoyable.

Provides a good aerobic workout during the winter months, which most of us tend to slack off on when the weather turns cold.

Hot food, warm drinks, and a roaring campfire feel even better after a long cold hike.

Allows you to spend some time in nature, which is good for both your physical as well as your mental health.
2. Winter Nature Watching
Even while camping in the great outdoors it can sometimes be easy to take all the surrounding nature and beauty for granted, as we go about our routines of setting up and maintaining the campsite.  
So a great activity to help us truly appreciate and enjoy nature while camping is to just sit completely still surrounded by nature.
Taking note of all the little nuances and complexities nature has to offer that can be easy to overlook if you're not paying attention.  
And if your thinking nature doesn't have anything to offer while camping in the winter, think again.
Because while there may not be a bustling of activity as there is in the summer, there is still plenty to appreciate and take notice of during the winter.
Such as the cracking and creaking of the bare trees, babbling brooks and rivers, and a whole flurry of small animals and birds that are still very active even during the winter.  
3. Ice Fishing
Ice fishing is one of the most popular winter sports out there, which makes it a great activity to enjoy while winter camping.
Because not only do you get the enjoyment from ice fishing but you just might get an added bonus by catching your dinner.
But if you've never tried ice fishing before there are a few things you will need.
What You Need to Try Ice Fishing for the First Time
While really any frozen lake, pond, or body of water will do, if you just want to try out ice fishing, if you really want to experience everything ice fishing has to offer, you might want to consider one of these top ice-fishing destinations.
Top Ice Fishing Destinations in the US
Lake Gogebic, Michigan

Antero Reservoir, Colorado

Devils Lake, North Dakota

Silver Lake, California

Red Lake, Minnesota
If you do decide to enjoy ice fishing while winter camping though, just make sure you are being safe while doing so, by making sure the ice you're fishing on is safe and thick enough to support your weight.
As the ice needs to be at least 5 inches thick for ice fishing.
4. Snow Tubing or Sledding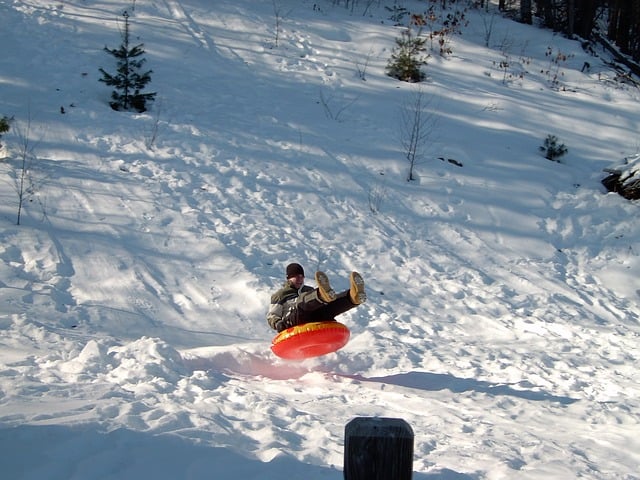 Every cold-weather town in America has a popular hill that everyone flocks to after the first snowfall of the year for snow tubing and sledding, as it's an activity the whole family can enjoy and is a great way to get out of the house during the winter.
But when people are trying to think about things to do while winter camping, they often don't think about snow tubing and sledding.
Which is a shame, as winter camping can be one of the best times to break out the intertube and sledding disc for some good old fashion sledding.  
As it will allow you to avoid all the crowded local hills and find your very own private epic hill tucked away in nature for you and your family to slide down and enjoy.
5. Enjoy and Embrace the Stillness of Winter
Sometimes one of the best things you can do while winter camping is actually nothing at all.  
As winter camping can provide the space and stillness you need to collect your thoughts and decompress from your busy and hectic day-to-day life.
So while winter camping don't feel like you need to be doing something every second.
Because one of the greatest gifts of winter camping is the quiet and stillness that it offers.  
6. Cross Country Skiing
Cross country skiing is another popular winter sport that's tailor-made for winter camping.
As cross country skiing provides an excellent way to enjoy the snow-covered wilderness and nature surrounding your campsite that might not otherwise be possible.  
In fact, some winter campers will actually use cross-country skiing as their mode of transportation to ski into more remote campsites that they couldn't reach otherwise.  
But regardless of how you choose to enjoy cross country skiing while winter camping, the health benefits are numerous.
As cross country skiing provides an excellent full-body workout and helps to improve cardiovascular health and endurance.
And if you're looking for some amazing places where you can cross country ski while winter camping, you definitely need to check out the below destinations.
Best Places for Cross Country Skiing While Winter Camping
Giant's Ridge – Biwabik, Minnesota

The Birkie Trail – Hayward, Wisconsin

Royal Gorge Cross Country Ski Resort – Soda Springs, California

Rendezvous Ski Trails – West Yellowstone, Montana

Cross Country Ski Headquarters – Higgins Lake, Michigan

Sun Valley Nordic Center – Sun Valley, Idaho

The Birkie Trail – Hayward, Wisconsin

Soldier Hollow Cross-Country Skiing Resort – Midway, Utah
7. Snow Golf
While you've probably heard of many of the activities on this list before, one that you more than likely have not heard of is snow golf, which as the name implies is a way to play golf even during the winter and especially when there's snow on the ground.  
And while snow golf is normally played on an actual golf course, there is nothing preventing you from setting up your own little golf course in the great outdoors, while winter camping.
And remember when playing snow golf that it's all about maximizing fun and less about competition and professional type play.
As most people that play snow golf typically only use a few clubs such as an iron, a wedge, and maybe a putter, and don't worry too much about rules and typical golf etiquette.
What You Need to Play Snow Golf While Winter Camping
Open clearing or field that can be used as a fairway.

One or two clubs of choice.  (Most Popular Choices Include an Iron, Wedge, and Putter.

Neon-colored golf balls such as green or orange, that will show up well against the white snow.

A couple of plastic solo cups for the golf course holes. 
8. Soak in a Natural Hot Spring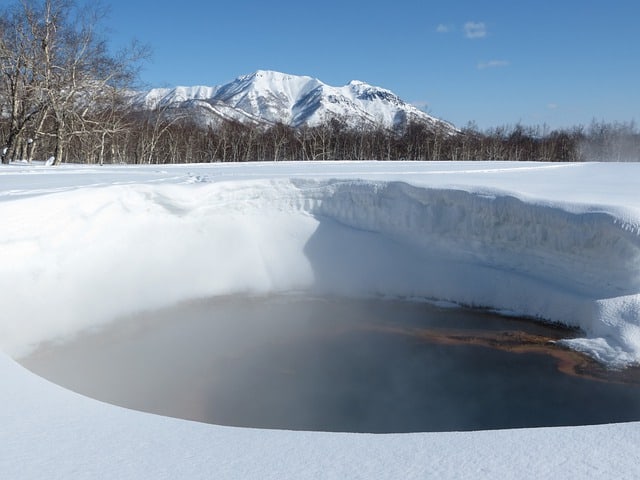 If you're looking for a more relaxing and less physical activity to enjoy while winter camping, you might want to consider soaking in a natural hot spring.
As there is just something both invigorating and relaxing about the stark temperature differences between the naturally warm water of a hot spring and the cold surrounding air.
But if you want to try soaking in a natural hot spring while camping, just know that not all hot springs are created equally for soaking.
As temperatures in natural hot springs can vary wildly and not all are suitable for soaking.
So to highlight all the best hot springs for soaking, we created the below list, that showcases the top hot springs for soaking. 
Top Hot Springs for Soaking While Winter Camping
Chena Hot Springs – Fairbanks, Alaska

Rainbow Hot Springs – Pagosa Springs, Colorado

Dunton Hot Springs – Dolores, Colorado

Boquillas Hot Springs – Big Bend, Texas

Hot Springs National Park – Hot Springs, Arkansas

San Antonio Hot Springs – Jemez Springs, New Mexico

Umpqua Hot Springs –  Glide, Oregon

Granite Falls Hot Springs – Jackson, Wyoming
9. Read a Good Book
It can be hard sometimes to carve time out of our normal jam-packed day-to-day life to read for even an hour. 
As we are consistently being bombarded with never-ending tasks and distractions throughout most of the day.
Which makes the quiet solitude of winter camping a great time to curl up with a good book.
As it is much easier to find time for reading while camping, as there are far fewer distractions and way less on your to-do list.
And if you're looking for a few book suggestions to read around the campfire, these are some of my personal favorites to read while camping.
Best Books to Read While Winter Camping
10. Stargazing
You will not find a more perfect time for stargazing than winter camping, as the cool crisp air and lack of light pollution will allow you to see stars like you never have before.  
As warmer nights often have a lot of humidity in the air, which can produce a haze and even blur the stars.
In addition, cities and even neighborhoods throw off a lot of light pollution that can dull or even eliminate the dimmer stars from view.
But to really maximize your stargazing experience while winter camping there are a few things you need to do.
Get as high up as possible as the higher you go, the less likely you will be affected by light pollution.

To avoid ruining your night vision invest in a red flashlight or create your own by placing a red piece of cellophane or paper over your phone's flashlight.  

Bring a pair of binoculars with you for a more up-close view.

Download an app to your phone to help you locate particular stars and constellations. (Popular Stargazing Apps Include Stellarium, Google Sky Map, Starwalk, Exoplanet)

Don't forget a good old fashion star map in case the area you are camping in doesn't have a strong enough cell phone signal to use your stargazing app. 
Look for the international space station in the night sky by going on NASA's website to find out when, where, and for how long the next sighting will be in your area.  
11. Winter Bird Watching
While bird watching is most popular in spring and summer as birds, in general, tend to be more active during these times of the year, that doesn't mean winter isn't a good time for bird watching as well.
Because while bird sightings tend to be more sparse during the winter months, that tends to make the ones you do have more special. 
In addition, there are certain types of birds that are generally seen more during the winter months than at any other time of the year.
Which makes bird watching a great activity for winter camping.  
Most Popular Birds to Look for in the Winter
Snow Bunting

Bohemian Waxwing

Read and White-winged Crossbills

Lapland Longspur

Evening Grosbeak

Snowy Owl

Rosy-Finches

Hoary and Common Redpolls
12. Ice Skate on a Frozen Pond or Lake
While ice skating at a local ice skating rink is definitely a lot of fun, there is just something about skating in the wild away from the crowds and in nature that makes it more enjoyable.
Which is why you should definitely consider ice skating on a frozen pond or lake while camping in the winter.
Because it's a great way to get some exercise and it's just a whole lot of fun.
And if you happen to be camping with a group of people in the winter, you might even want to consider putting together a pickup game of ice hockey.
Just remember as with ice fishing just because you see ice on a lake or pond doesn't mean that it's safe for ice skating, as the ice may not be thick enough to support your weight.
So before you get out onto the ice, make sure that it's thick enough to support your weight.
And a good rule of thumb for this is that the ice needs to be at least 5 inches thick before it's safe to skate on.
Another general indicator that the ice is probably ok to skate on is if there are already people out there ice skating, just remember though that this is not full proof.
As people will often skate on ice, they shouldn't be.
13. Winter Photography
While summer photography tends to take most of the praise and admiration, oftentimes winter photography can be even more stunning and beautiful, in its own special way.
As winter photography allows you to capture the stillness and silence often found in the wilderness during the wintertime, which is why winter photography makes a great activity for winter camping.
And if you need even more convincing to enjoy the hobby of photography during the winter, check out the below benefits winter provides for photography.
5 Reasons Why Winter is a Great Time for Photography
Long cold nights during the winter months provide the best opportunity for fog and mist photography in the early morning hours.

While daytime is much shorter during the winter, when the sun is up it tends to provide better lighting because the sun is lower in the sky.

Because all of the leaves and foliage have fallen from the trees it allows you to take pictures of vistas not possible during the warmer months as the views are blocked by leaves and foliage.

Overcast and cloudy days often found during the winter are some of the best times to shot streams, rivers, and waterfalls as the soft light won't wash out the details of the water.  

Bare trees and limbs provide excellent opportunities for bird and wildlife pictures.
14. Snowshoeing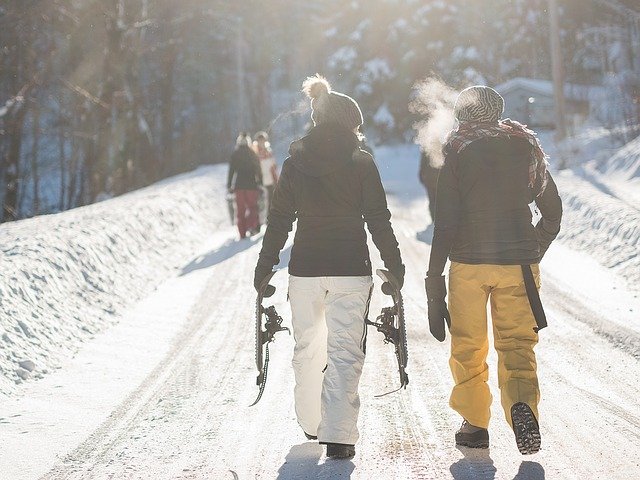 Snowshoeing is a great way to explore the snow-covered wilderness that surrounds your campsite that might not be possible otherwise.
As snowshoes allow you to easily walk across the snow-covered ground.
Making snowshoeing a great activity to do while camping in the winter, if you're someone that has a sense of adventure and loves exploring.
Just remember to keep your bearings while snowshoeing, as it can be easy to become disoriented or lose your bearings while snowshoeing in the wild, especially if fresh snow is falling.
As the fresh snow can cover your original tracks made by your snowshoes, as you were hiking out, which can make staying on course while hiking back more difficult if your not snowshoeing on a well-marked trail with clear markers.
15. Backcountry Skiing
No winter activity list would be complete without skiing, as it is one of the most popular winter sports out there.  
And while the commercialized ski slopes are great, if your looking for a more natural skiing experience and don't mind climbing the hills you plan to ski down, backcountry skiing can be a great way to enjoy nature while winter camping.
In addition, backcountry skiing also lets you avoid the crowds often found at the commercial ski slopes and allows you to connect with nature in a more real and authentic way.
Best Places for Backcountry Skiing While Winter Camping
Sugarbush – Vermont

Stevens Pass – Washington

Jackson Hole – Wyoming

San Juan Mountains – Colorado

Lake Tahoe – California and Nevada

Sawtooth Range – Idaho
One disadvantage of backcountry skiing though is that it can be very isolated and difficult to get help if you were to get injured.
So if your plan to ski in the backcountry you need to exercise caution and always ski with a buddy in case you run into trouble.  
16. Board Games
Thanks to the short days and long nights while winter camping, any activity you can do at night is especially valuable, as it provides a way to pass the long cold night while winter camping.
And there is perhaps no better way of passing the long winter nights than by playing board games, which are universally loved by just about everyone.
As I have yet to meet a person that doesn't love to play a fun board game from time to time.  
17. Make a Snow Man or Snow Sculpture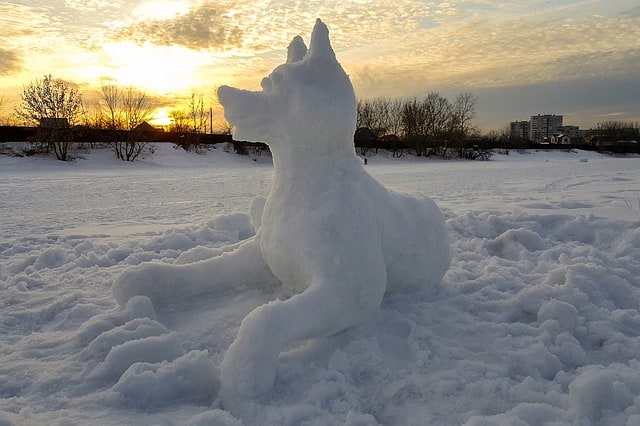 Making a snowman or winter sculpture is one of the most artistic things you can do while winter camping, and it can be a great way to express your artistic side.
And let's face it whether you're young or old, making a snowman is just fun.
But if you feel like making a snowman is too silly or simple and want to up the difficulty level, you might want to try your hand at snow sculptures like the one pictured above.  
Just be forewarned that it's not as easy as you might think.
18. Winter Meditation
While meditation is not for everyone, if you're someone that enjoys meditation or wants to try it for the first time, winter camping can be a great time to practice mindful meditation.
Thanks to the clean crisp air of winter and quiet still surroundings.  
Sources
Top Ice Fishing Destinations – Fishing Booker
Best Cross Country Skiing Spots – The Clymb
Top Hot Springs for Soaking – Local Adventurer