When cooking outdoors there are many stove options available to the modern camper.  Some of the more popular choices include canister, propane, alcohol, and even fuel tablet stoves.  However, one of the most reliable and efficient stoves while camping is the single burner propane camp stove.
Best Single Burner Propane Camp Stoves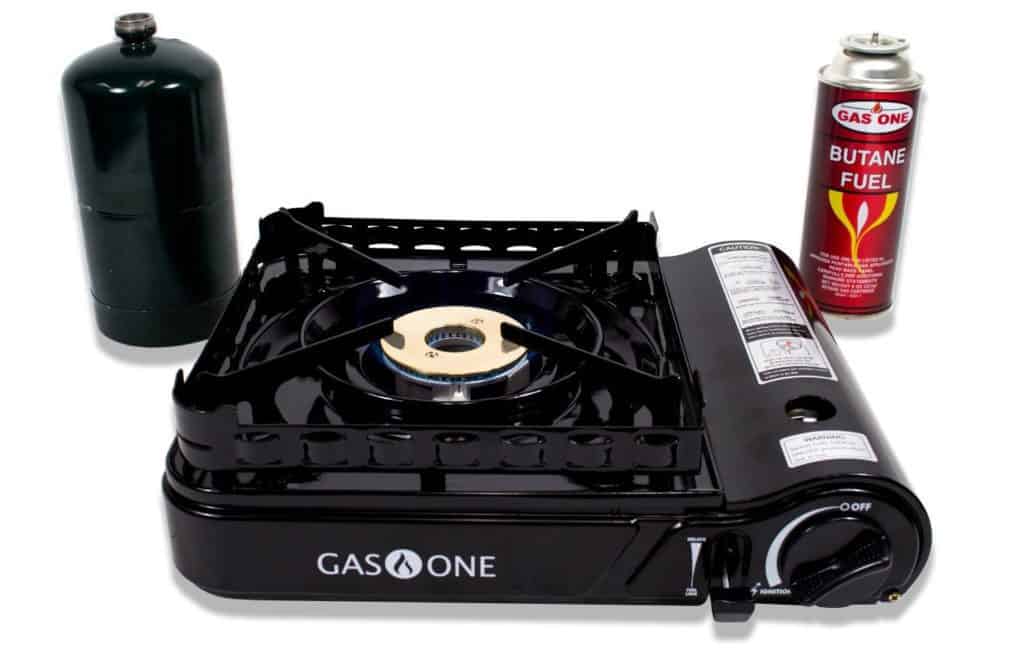 One of our favorite single burner propane gas stoves is the GS-3900P by GAS ONE.  This model is one of GAS ONE's larger single burner gas stoves with a heat output rating of 15,000 BTU, helping make quick work of cooking while camping.  
Even with the high BTU rating, the GAS ONE GS-3900P is still very compact and portable for camping and hiking.   It even comes with a handy carrying case for easy transport.
One major advantage of this camping stove is its dual fuel capability, allowing the stove to run on either propane or butane.  While we prefer propane over butane as a fuel source, especially during cold weather camping.  Having the ability to burn two different types of fuel can really come in handy.  
The GAS ONE GS-3900P comes packed with great features including an electric ignition, adjustable heat control, and safety features such as a built-in pressure sensor and gas cut off mechanism.  Because of all these great features and GAS ONE's good build quality they were an easy addition to this list.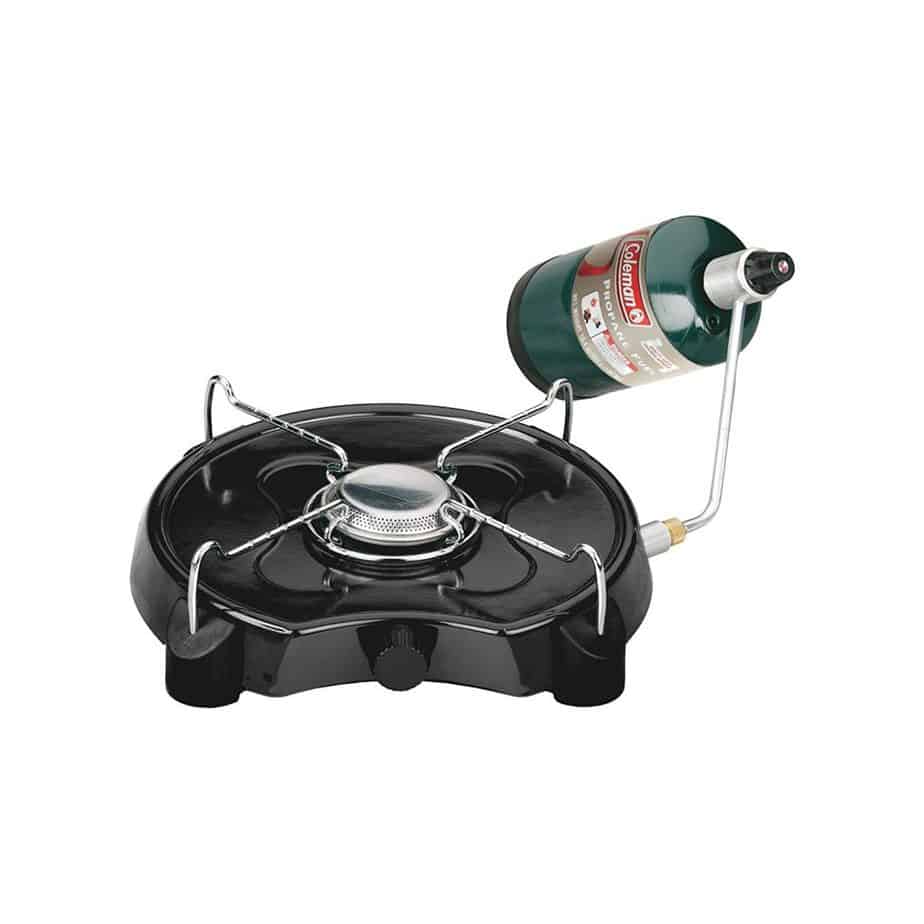 No best of propane camping stove list would be complete without Coleman making the list.  We really like the Coleman Powerpack Propane Stove for its ease of use and rugged build quality.
It's hard to beat Coleman on quality, as they have been turning out quality long lasting camping gear for over a 100 years.  
Coleman uses several proprietary technologies such as PerfectFlow and PerfectHeat, ensuring you have long lasting consistent heat while cooking.
With a heat output rating of 7,500 BTU, its certainly not the most powerful propane camping stove.  However, this heat output rating is more than capable of boiling water and producing basic meals.  Also with the lower BTU rating, your Coleman 16 oz fuel canister will last longer than with higher output stoves.  
Even though the Coleman Powerpack Propane Stove is more on the basic side of design it still has some convenient features such as adjustable heat output, large 3-inch burner, and a chrome plated grate for easy cleanup.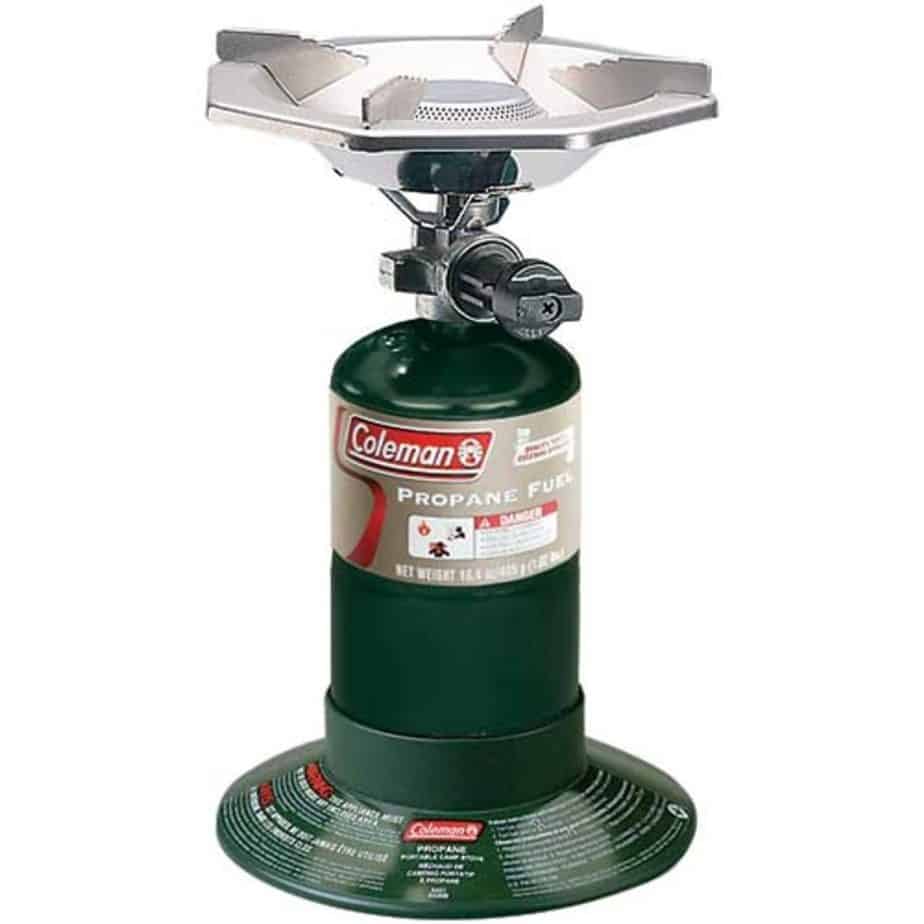 If your looking for the ultimate in portability then look no further than the Coleman Bottle Top Propane Stove.
This single burner propane camp stove incorporates the actual Coleman 16 oz propane canister into its design creating a very simple and compact camping stove.
The heating element is attached directly to the top of the Coleman propane canister.  While on the bottom a circular ring is fitted to the canister for stability and to create a base for the camping stove.  
Even though the Coleman Bottle Top Propane Stove might be small and compact in size it still packs quite a punch producing 10,000 BTU of cooking power.  Pot and pan sizes are limited though because of its smaller heating element.  The stove can only handle up to an 8-inch pan size.
This propane camping stove is certainly not short on convenience and features though because of its smaller size.  The Coleman Bottle Top Propane Stove incorporates both the Coleman PerfectFlow and PerfectHeat technologies.  The stove also includes handy features such as adjustable heat output and wind baffles to help protect the flame from wind.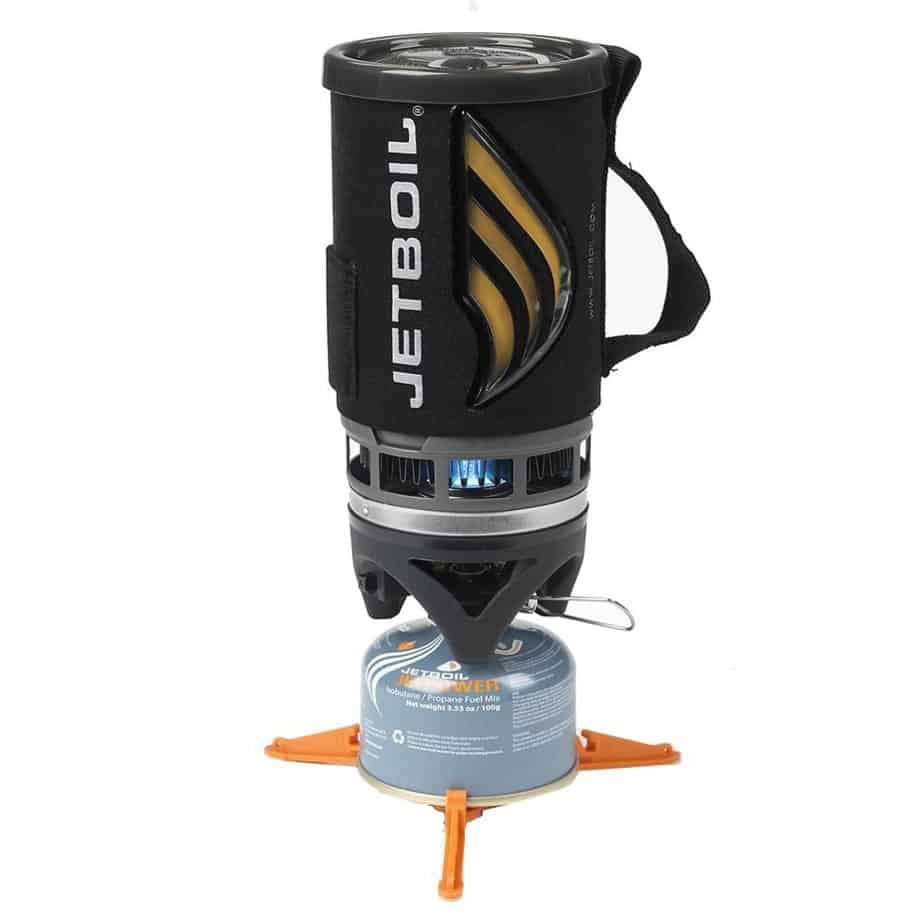 While this particular camping stove falls more in the camp of a canister stove as opposed to a propane stove.  Because of its versatility and ease of use we felt it deserved an honorable mention on this list.
First things first this particular camping stove runs off of a fuel canister that will typically have a blend of different types of fuel.  Our favorite is the Jetboil Jetpower Fuel which is four-season rated and is a mixture of isobutane and propane.
Much like the Coleman Bottle Top Propane Stove the Jetboil Flash Personal Cooking System incorporates the actual fuel canister into the stove design.  The heating element attaches to the top of the fuel canister directly for ease of use and operation.
With this particular camping stove, you will be cooking or boiling water inside the built-in 1-liter cooking cup.  So keep in mind as the name implies this particular stove is best suited for a camping party of one or two people.
Like the other camping stoves on this list the Jetboil Flash Personal Cooking System is feature-rich.  This model includes an adjustable heat output, stabilizer tripod, and a built-in 1-liter cooking cup with a color-changing temperature indicator.  
What is Propane and Why is it Great for Cooking?
Propane is produced as a byproduct of either natural gas processing or petroleum refining and is commonly used as a fuel.  At standard room temperature and pressure, propane is a gas.  When compressed through propane becomes a liquid and can be stored easily.  When in its liquid state it goes by the common name of Liquid Propane or (LP).
There are many fuel options when it comes to cooking so what makes propane such a great fuel for camping?
Propane is a cleaner burning fuel.

Provides a very even heat reducing hot and cold spots when cooking.

Energy efficient heat compared to other sources such as electricity.

Due to its low boiling point of -44F, it vaporizes as soon as it released from the container,  requiring no carburetor or other vaporizing devices.

Easily stored as a liquid making it a portable and reliable fuel source.  
Where to Buy Propane for Camping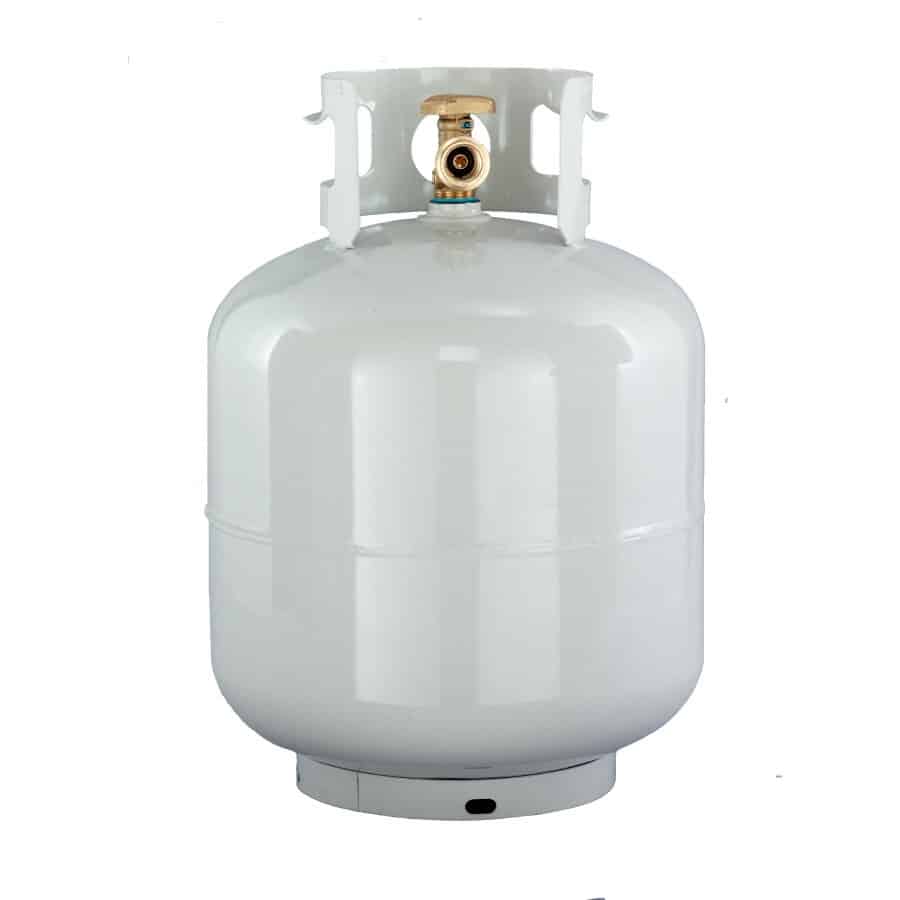 Propane purchase and exchange sites can be found all over town at gas stations and various retail outlets like Walmart and Lowes.  However, they typically only sell and exchange the standard 20Ib tanks, commonly used for outdoor grills and heaters.
While technically this size tank would work for a single burner propane camp stove.  This size would be extreme overkill and would be very cumbersome and bulky to use around the campsite.  
A far better option for camping is the more portable 16 oz propane cylinder.  You can usually find these propane cylinders anywhere they sell camping supplies or online at Amazon here.
How Much Propane Do You Need?
A typical 16 oz propane cylinder will provide 2 to 2 ½ hours of propane with the burner set on high.
Knowing this information you should be able to figure out how much propane you might need for your camping or hiking trip.    
For most camping trips using a single burner propane camp stove, one 16 oz cylinder should do the job.  However, if camping for a long duration or cooking for a large number of people you may find two 16 oz cylinders more appropriate.  
Propane and Safety
As with any flammable gas or liquid safety needs to be the main consideration when using, storing, or traveling with propane.  
Propane Safety Tips
Never store propane tanks in enclosed vehicles.

Properly secure propane tanks for travel.

Do not use propane gas grills indoors.

Always handle propane cylinders with care.

Follow the manufacturer's instructions for use and when lighting the pilot on all propane devices. 

Regularly check propane tanks and equipment for possible leaks or malfunctioning parts.  
Top Manufacturers of the Single Burner Propane Camp Stove
Coleman
No list would be complete when discussing outdoor camping gear without including Coleman products.  Coleman was founded in 1900 in Kingfisher, Oklahoma, and has been turning out quality camping gear ever since.  They produce a full line of propane stoves including the two burner Coleman Propane Classic Stove, the Coleman Powerpack Propane Stove, and the Coleman Bottle Top Propane Stove.  They also produce one of the most well used and trusted 16 oz propane cylinders on the market.
GAS ONE
Gas One was founded as a family company and its products are known for their quality and reliability.  Gas One currently sells a wide variety of propane stoves including the popular GS-3900P that can use either propane or butane and the GS-800P Mini which is one of their more small and compact designs.  
Jet Boil
The company was founded in 2001 and are best known for their canister stoves.  Jetboil stoves are generally more expensive compared to other stoves but are made with exceptional quality and are designed to work in extreme conditions.  Even though best known for their canister stoves, they offer a wide variety of products and models that are sure to please the most discerning of campers. Some of their more popular stoves include the Jetboil HalfGen Base Camp Cooking System and the canister stove Jetboil Flash Cooking System.
Why Use a Single Burner Propane Camp Stove?
With all the different options out there for campsite cooking what makes the single burner propane camp stove the best choice?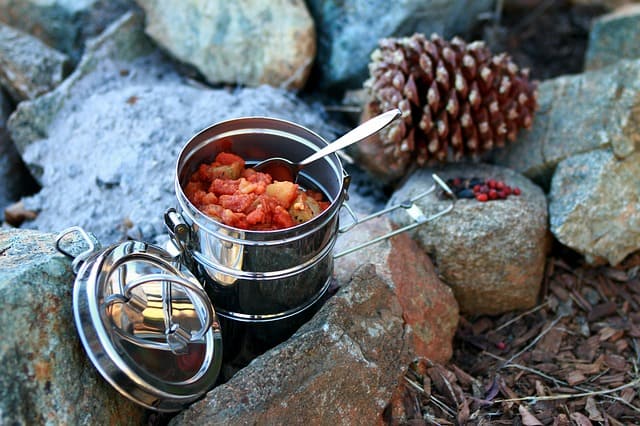 Reasons to Use a Single Burner Propane Camp Stove
One burner allows the stove to be compact for easier travel.

A readily available fuel source that is easy to find.

Propane stoves are simple in design with few moving parts, which means less to break and go wrong.

Propane stoves can work in temperatures down to -44F which is the boiling point of propane.   

Cost effective fuel source, for the money it produces many more units of energy than other fuel sources.  

Environmentally friendly meeting the clean air energy standards.
Disadvantages of Using a Single Burner Propane Camp Stove
It can't all be good news though and there are some disadvantages to using this type of stove.  First propane is stored in a pressurized liquid state and is highly combustible as with other types of fuel.  A certain amount of care and safety needs to be exercised to avoid accident or injury when using propane.
While technically propane stoves will work in temperatures at or above -44F.  Which is substantially better than stoves using butane due to its 31 degree boiling point.  You may notice performance issues with your single burner propane camp stove in extremely cold weather. In these instances of extreme cold weather, you will find that a liquid fuel stove will perform better.  This is due to the cold weather reducing the pressure in your propane cylinder or tank. When the pressure is reduced in the tank there is less gas reaching the burner to be ignited.
Final Thoughts
While there are many stove options out there for camping and hiking we believe the single burner propane camp stove offers the best for both reliability and portability when cooking in the great outdoors.