When on those long hikes that span over multiple days it's important to keep your energy up by eating calorie-dense foods and staying hydrated. Granola bars and snack foods can help, but it's important to have some hiking cooking gear in your pack as well, so you can eat more hardy meals while on the trails.
When considering hiking cooking gear there are a few main considerations to keep in mind.
Weight — The weight of your gear can be one of the most important considerations to keep in mind not only with your hiking cooking gear but with all your gear in general. Obviously the lighter the better, when hiking ounces matter. The lighter you can keep your pack the more energy you will conserve and comfortable you will be.
Ease of Use — When hiking the simpler the better is a good motto to live by. Keep in mind the environment you will be using this hiking cooking gear. When using the cooking gear there might be low light, windy conditions, and or harsh weather to contend with.
Reliability — When choosing the best hiking cooking gear look for products that have a good track record, rugged builds, and simple designs. Because if the product or gear doesn't work on the trails you have basically been carrying a useless brick in your pack.
Price — You do not need to buy the most expensive hiking gear on the market but on the flip side, it's also important not to buy the cheapest low-quality products either. When choosing hiking cooking gear look for quality reliable products in the medium to upper price range. In the long wrong investing in good quality hiking gear will make time on the trails safer and more enjoyable.
 
Hiking Stoves
The foundation for your hiking cooking gear is a good quality hiking stove. There are five main types of hiking cooking stoves to consider including canister stoves, liquid fuel stoves, alcohol stoves, solid fuel stoves, and wood stoves.
Canister Stoves
In our opinion canister stoves are going to be the best option for 90% of the hikers out there.
Pros of the canister stove include ease of use, light and small, maintenance-free, and quick water boil times.
Perhaps the most pronounced drawback of the canister hiking stove though is it is best suited for three-season hiking as they do not work as well in extreme cold. For most hikers, though this should not be an issue, as the temperature would need to be below 20 degrees before you might run into issues.
These are some of our top choices.
MSR PocketRocket 2

To Check the Price on Amazon Click Here
Ultralight (2.6 oz)
Boils 1 Liter in 3.5 Minutes
Adjustable Flame
Easy Set Up
Etekcity Ultralight Portable Stove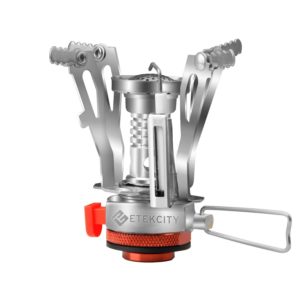 Check Amazon Price By Clicking Here
Made from Aluminum Alloy and Stainless Steel
Burns Clean
Compact and Collapsible
 Broad Compatability
Liquid Fuel Stoves
If you are planning a cold-weather hiking trip liquid fuel stoves can make a better option as they handle cold weather better than canister stoves.
Some drawbacks of the liquid fuel stove include large and bulkier size, not as easy to use as they require priming, and they require maintenance.
Below are few liquid fuel stoves to consider.
MSR Whisperlight Stove
Made from Stainless Steel and Brass
Burns Cleanly on White Gas
Easy Clean Stove
Lifetime Warranty
MSR XGK EX Extreme Condition Stove
Dependable and Easy to Clean
Super fast Boils 1 liter in 2.8 Minutes
Retractable Leg and Pot Supports
Multi-fuel
Alcohol Stoves
When it comes to simplistic design, compact, and lightweight the alcohol stove is hard to beat. Most alcohol stoves will fit into the palm of your hand, are quiet, and inexpensive.
A common fuel source for the alcohol stove is a product called Heet.
Check out these below options for alcohol stoves.
Trangia Spirit Burner with Screwcap
Weight .24 Pounds
Boil Time 1 Liter 8 Minutes
Screwable Cap to Save Unused Fuel
Simmer Ring Allows for Flame Adjustment
Starside Mini Set Stove
Made from Hard Anodized Aluminum
Fire will Burn for 45 Minutes
Net Weight 4.59 oz
Includes Carrying Bag
Solid Fuel Stoves
Solid fuel stoves can be another inexpensive option when looking for a hiking stove. They are very simple in design and burn Esbit fuel tabs. The fuel tabs look like little pucks, that you light on fire than simply place your pot over the flame.  Each fuel tab will last about 12 minutes.
This option does take a little more patience though as you will encounter slower quick times when using a solid fuel stove.
We like these solid fuel stoves.
Esbit Ultralight Folding Pocket Stove
Made from Galvanized Steel
Folds Down to Small Compact Size
Includes 6 Smokeless Esbit 14g Solid Fuel Tablets
2 Cooking Positions for Cups, Pots, and Pans
Esbit Titanium Stove
Constructed from Ultralight Titanuim
Compact Foldable Design
Weighs .4 oz
Uses Esbit Solid Fuel Cubes
Wood Stoves
It does not get more simplistic and basic than the faithful wood stove. This might be a good option if you have an appreciation for doing things the old fashioned way.
The nice thing about wood stoves is you do not have to carry your fuel source and it burns a renewable resource.
As with solid fuel stoves though cook times are usually slower requiring more patience and the wood stove can be a little more challenging to operate successfully for a novice.
This is our favorite wood stove.
Solo Stove Titan –  2 to 4 Person Wood Burning Stove
Lightweight and Compact
Fast Boil Times Boils Water in 4 to 6 minutes
DoubleWall Design Creates Less Smoke
Made from Stainless Steel
Mess Kits
Now that we have the heat source covered in your hiking cooking gear we need to discuss what we are going to place on the stove and how we are going to eat our prepared meals.
Since most meals on the trails are simple in nature and typically involve rehydrating dried foods. The faithful stand by for most hikers when it's mealtime is the mess kit as it is compact, lightweight, and can serve many functions.
Typically the mess kit will have one or more pots for cooking, utensils, and few other cooking items. As with the cooking stove, look for mess kits that have a good track record, are rugged in design, and easy to use and operate.
Below are some options that we like.
Mallome 10 Piece Cookware Mess Kit
Anodized Aluminum 1 Liter Non Stick Pot
Quality Build
Everything You Might Need for Cooking in One Small Bundle
Stansport 360 Stainless Steel Mess Kit
Copper Bottoms for Uniform Heat Distribution
Fully Nests Together for Compact and Easy Transport
Mesh Carry Bag
Rugged High QualIty Material