Waterproof blankets can be used at all sorts of outdoor venues such as picnics, sporting events, and concerts.  However one of the best places to use a waterproof blanket is while camping in the great outdoors. The camping waterproof blanket can be indispensable around the campsite, keeping you warm and dry no matter what mother nature throws your way.
Camping Waterproof Blanket for All Weather Conditions?
When most people think of blankets or waterproof blankets, they imagine using them when its cold and or wet outside.  
While waterproof blankets do a great job during cold and wet weather, don't think that's the only type of weather they can protect against.
Look at the four below weather scenarios and how the camping waterproof blanket can provide protection from each while at the campsite.  
Warm Weather
Just because the weather is warm outside doesn't mean you can leave your camping waterproof blanket behind.  In fact, as the temperatures increases, you might find the camping waterproof blanket invaluable.
Barrier to block the sun's harmful rays and help keep the temperature cooler.

Wind block on those breezy days.

Provides certain level of protection from insects.

Handy to have around as the weather turns cooler during the night.  
Cold Weather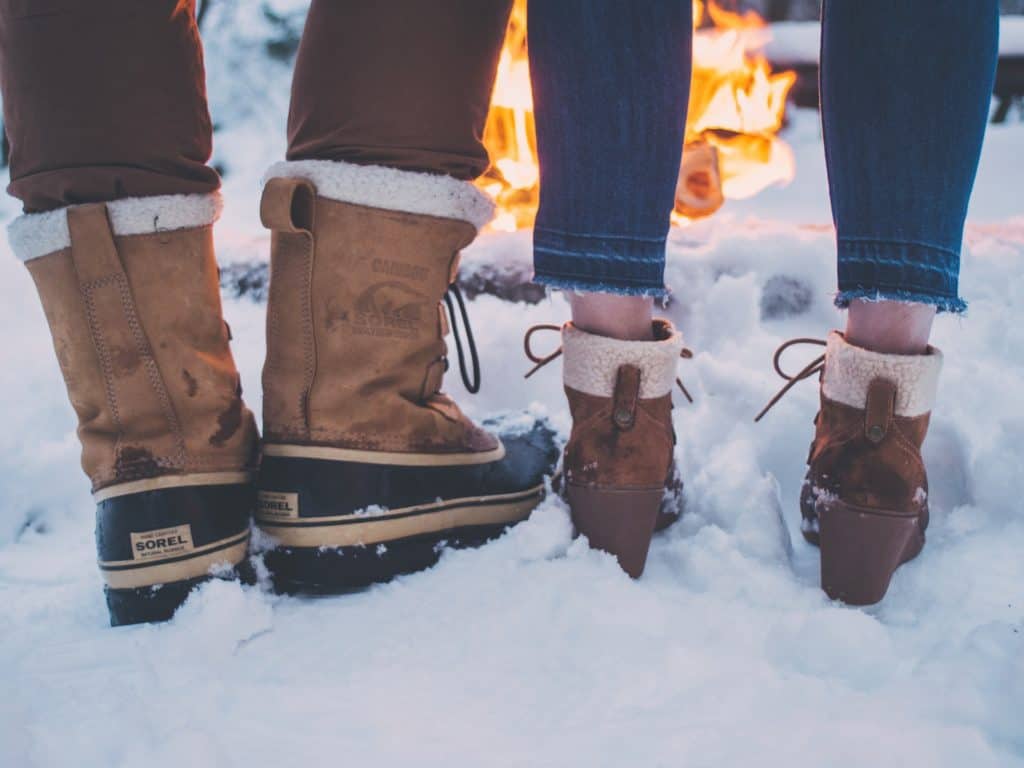 The camping waterproof blanket was designed and built with the cold weather in mind and offers a great level of protection when the weather turns cool or cold outside.
Use to wrap yourself in while sitting around the campsite.

Add extra warmth by layering blanket over top of sleeping bag.

Use as a wind block against the bone chilling winter wind.
Wet Weather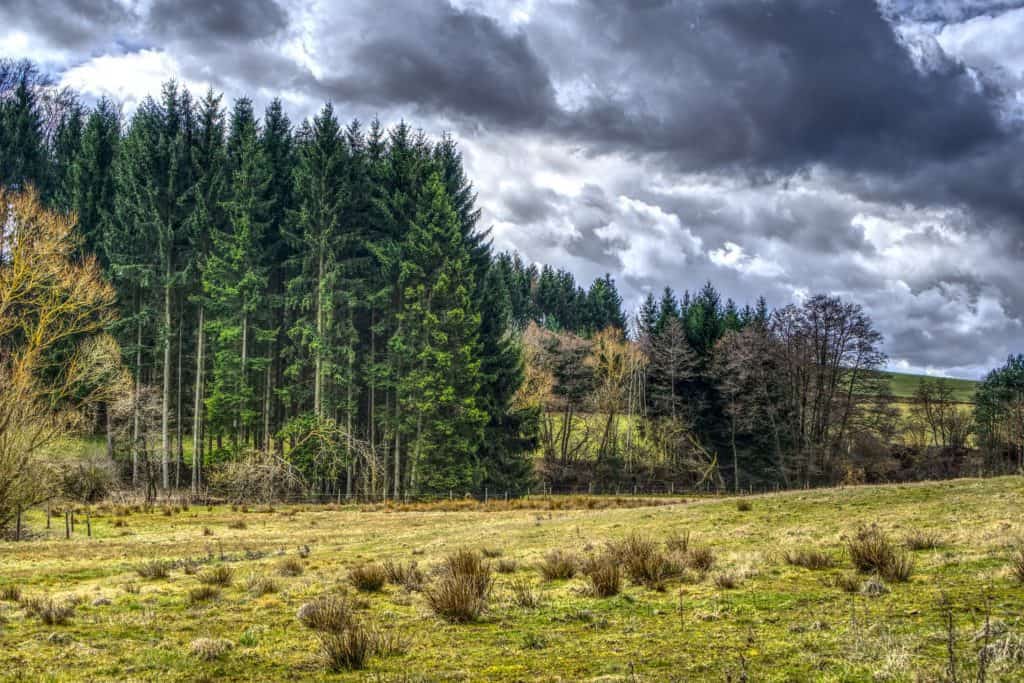 The fact that the camping waterproof blanket is waterproof makes it the only blanket to grab when the rain clouds come out.
Top level protection from moisture keeping you warm and dry.

Use as ground cover to keep your gear out of the mud and dry.

Use as a cover for any item you want to keep dry around the campsite.
Dry Weather
While the weather is dry you might not think to pack your camping waterproof blanket but even in dry weather it can come in handy.
Use as ground cover to keep dust and dirt out of your camping gear.

Provides protections from the wind and insects.
Design and Material
As opposed to using one layer of material, camping waterproof blankets typically use several different layers together to provide additional warmth and waterproof capabilities.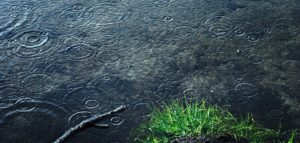 This multi layer construction of the blanket is the secret sauce to its versatility and usefulness around the campsite.  
Below is a list of common materials used in the construction of the camping waterproof blanket.
Fleece – Designed to be a substitute for natural wool.  Fleece has excellent warming properties as the material traps air between its fibers.  It's also great in damp or wet environments as it wicks away moisture. Fleece can be superior to natural wool, as its lighter and also dries faster.  Fleece is highly flammable though, so be careful if using around a campfire.
Wool – One of the warmest natural materials in existence.  Wool can also trap air between its fibers providing an excellent source for warmth.  Drawbacks to wool as opposed to other materials include heavier weight and longer dry times.
Polyester – Synthetic material providing excellent warmth while still being lightweight.  Polyester will wick moisture away from the skin and is also non flammable.
Nylon – Strong lightweight elastic synthetic polymer that provides excellent waterproof capabilities.  Nylon is also very durable and helps protect against tears and punctures.
Mylar – Is a form of polyester resin that looks like aluminum foil.  Mylar is very heat resistant and is also waterproof. In addition mylar is a very thin and lightweight material that does a great job holding in heat without adding a lot of weight or bulk.
Additional helpful features that can be found on some camping waterproof blankets, include loops to stake down the blanket or built in pockets and zippers to store small items for easy access.
Using the Camping Waterproof Blanket Beyond the Campsite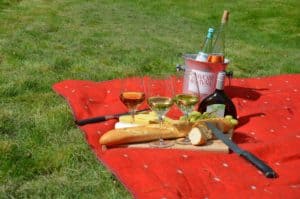 The camping waterproof blanket is a great piece of gear around the campsite but don't pack your blanket away as soon as you leave the campsite.
The blanket can come in handy for more the just camping.  Really any event or activity outdoors is a great excuse to use your waterproof blanket.
Great places to use the blanket include picnics, outdoor concerts, sporting events etc…..
Look for Quality
As with all products in your camping gear, build quality is of utmost importance and should never be overlooked.  
Considering the harsh environment that sometimes exist while camping, you definitely want a camping waterproof blanket you can count.
Items to look for indicating good build quality include double or heavy stitching, higher end or thicker materials, and well thought out design and construction.
Camping Waterproof Blanket Care
By their very nature camping waterproof blankets tend to be very durable and soil resistant.  However to keep your camping waterproof blanket looking good some general care is order.
Check out the below tips to keep your blanket in like new condition for as long as possible.
Only hand wash and air dry, while some blankets might be machine washable many are not.  Because of the materials used and multi layer construction it is best to hand wash and air dry your blanket when needed.

Never store wet or damp.  Before the blanket is stored make sure is is completely dry to prevent mildew or mold.

Avoid sharp objects.  Although the camping waterproof blanket is designed to be durable and resilient, its still fabric and can be susceptible to tears and punctures.   
Picking the Right Camping Waterproof Blanket
Picking the right camping waterproof blanket really comes down to intended use or application around the campsite.  Below are three different scenarios and our recommendations for each.
Provide Warmth and Moisture Protection as a Blanket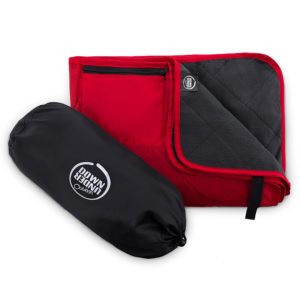 The Down Under Premium Quilted Fleece Blanket provides a great mixture of warmth and waterproof capabilities.
The blanket offers two sides that are quilted together.  The red side provides moisture protection from the elements while the fleece side provides warmth on those cold winter days.
The blanket also offers extra thick materials, a waterproof zippered pocket for a cell phone or a small snack, as well as a carrying case so it's always easy to carry.  
Provide Ground Cover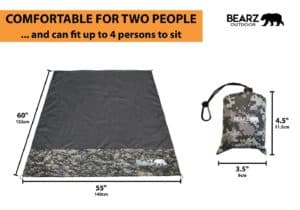 The BEARZ Outdoor Blanket is a great choice for those campers looking to provide ground cover to keep themselves and their gear dry while at the campsite.
This outdoor waterproof blanket provides handy loops and sand pockets at the four corners to allow the blanket to be staked or weighted down ensuring it stays in place.
The blanket comes in multiple colors and can be stored in a small handy pouch for travel.
Emergency Situations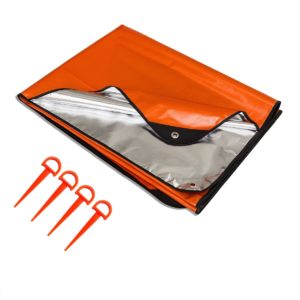 The Utool Thermal Survival Blanket is great in both emergency and non emergency situations.  This camping waterproof blanket provides multi layer construction using mylar and waterproof materials providing great thermal and weather resistant capabilities.
The blanket with included stakes can serve multiple purposes while outdoors.  In addition its lightweight and compact design makes it a great addition to any campers gear.