If you enjoy camping and hiking outdoors it doesn't mean you have to leave your favorite electronic device behind.
Portable solar chargers have become much less expensive and powerful over the years, making solar charging while camping and hiking a great alternative power source in 2020.
We created this Best Solar Panels for Camping Guide, to help you choose the best portable solar panels and chargers currently on the market, and to let you know what to look for when choosing the right one for your needs.
Best Solar Panels for Camping
Solar Charger RAVPower 24W Solar Panel
24W

Compact Folding Design

iSmart Charging Technology

Even 2.4A Current to each Port or 4.8 Overall

3 USB Charging Ports

Weight 26.4 oz

Folded Dimensions 11.81 × 6.5
RAVPower which stands for Reliable Affordable Value was founded in 2011.  They are known for the high-quality components including grade A batteries and premium microchips.  Offering an 18-month warranty on all products they sell.  
If you are needing several charging ports and high wattage output, but still want to maintain great portability then the 24W RAVPower model UK RP-PC005(B) might be the best fit for you when it comes to the best solar panels for camping.
With the high wattage output and multiple charging ports, this portable solar panel is sure to meet the needs of even the most power hungry camper.  
There is no internal battery on this solar panel though, so you will need to plug your device directly into one of three USB charging ports on the solar panel to charge your device directly from the sun. 
The great thing about this 24W solar panel though is it provides the ultimate in charging portability. Whether you want to place the solar panel on top of your tent, hook the panel on your backpack, or hang it from a tree, as long as the solar panel is receiving sunlight your devices are sure to be receiving a charge.  
Once the sun has set its easy to store the solar panel away as it folds up to about the size of a magazine.
Also with some solar panel chargers with more than one charging port you have to worry about uneven power distribution between the charging ports. However, RAVPower has solved this issue with their built-in Smart IC chip that ensures that the flow of energy is evenly regulated and that each connected device is charged at an even and constant rate.  
---
Anker 21W Dual USB Solar Charger
21W

PowerIQ Charging Technology for Fast Charging

Short Circuit and Surge Protection Technology

2 USB Charging Ports

Weight 14.7 oz

Folded Dimensions  11.1 x 6.3 x 1.1 in
Anker is another leader in USB charging technology with over 10 million users of its products. Anker provides great build quality, up to date technology, and reliable customer service for all the products it sells.
Anker's 21W dual USB solar charger is another well tested and popular solar panel that deserves mention on the best solar panels for camping list.
The solar panel has exclusive PowerIQ charging technology that discovers and duplicates your devices original desired charging requirements to deliver the fastest and safest possible charge to your device.
Whether camping, hiking, or backpacking this solar panel is sure to be there when you need it, due to its rugged build and design. The solar panel features industrial-strength PET plastic faced solar panels sewn into the high-wear polyester canvas to provide substantial protection from the elements and the great outdoors.  Also, the stainless steel eye-holes provide excellent durability as well as ease of use when attaching the solar panel to your tent or backpack.
---
BigBlue New 24W Portable Solar Charger 
24W

Built-in Ammeter and Chip

Auto Restart: Solar Panels

3 USB Charging Ports

Weight 20.96 oz

Folded Dimensions 11.2 x 6.3 x 0.7 in
BigBlue is a relative newcomer on the scene in solar panel charging products as the company has only been around since 2015. However, they are quickly establishing a reputation for industry-leading technology and durability.
The BigBlue 24W portable solar charger is no exception to this reputation having one of the highest watt ratings on the market at 28W as well a rare built-in Ammeter which indicates the number of amps the solar panel is receiving as well as a chip that ensures a stable charge.
The solar panel also has industry leading solar energy conversion at up to 23.5%. As well as auto restart, which allows the portable solar panels to start and stop charging the connected device when it loses contact with the sunlight through clouds or forest trees.
As with the other best solar panels for camping the BigBlue 28W portable solar charger offers great portability and ease of use with its foldable compact design and four hooks that allow you to hang the solar panels where ever it is convenient and there is plenty of sunlight.
---
Best Solar Panels for Camping with Built-In Battery
Solar Power Bank, 15000mAh Solar Charger
15000mAh Battery Capacity

Recharge from Outlet or Solar

Compact and Rugged Design

Two Device Charging

LED Flashlight

Weight 11.3 oz

Product Dimensions

5.5 x 0.8 x 3.1 in
The Solar Power Bank is a great overall solar portable charger.  The built-in battery has a 15000mAh battery capacity, giving you the ability to charge most small electronics multiple times through the USB connection. 
One of the best features of this portable solar charger that landed it on the best solar panels for camping list is its durable and rugged design, made from eco-friendly silicone as well as ABS and PC material.  This little solar charger can handle most anything that you can throw at it, as it is waterproof, shockproof, and dustproof.
Due to the design of the product, you can tell that Teryei had the camper and hiker in mind when they put together this portable solar charger.
Please keep in mind though as with most solar chargers with a built-in battery, it is best only to use the solar panel as a backup and in case of emergencies to charge your devices as the solar panel is so small that it creates very few watts.  
The best way to use this portable solar charger is to charge it up before you leave home to use on your camping trip, and then let the solar charger soak up some rays when possible to get a little free extra juice while camping and on the go.
---
Solar Charger RAVPower 15000mAh Outdoor Charger
15000mAh Battery Capacity

Recharge from Outlet or Solar

Battery Safeguards for Over Charging and Surge Protection

Two Device Charging

Solar Panel 1W

Weight 13.44 oz

Product Dimensions  6.7 x 3.5 x 0.8 in
As indicated from the above summary the solar panel on this charger is only 1W which means you will receive very little of your power from the sun and instead rely on the built-in battery to recharge your devices while camping and hiking.
 You will not be able to rely on the solar panel to charge up your devices.  As with most portable solar panels with a built-in battery, it's best to think of the solar panel as just an added bonus to throw a little extra power into the battery as well as for emergencies.
This portable solar charger does have a very large 15000mAh battery capacity though. The battery is capable of charging the iPhone 7 up to 4.2 times and a Galaxy S8 up to 2.8 times.
This compact portable charger has a nice rugged build and is both dustproof and shockproof making it perfect for both camping and hiking.
---
Poweradd Apollo 2 Solar Charger 12000mAh
12000mAh Battery Capacity

Fast Charging Speed with 2.4A Output per Port or 3.4 Amps Overall

Two Device Charging

Built-in Cigarette Lighter

Weight 9.6 oz

Product Dimensions 5.9 x 3 x 0.6 in
Poweradd was established in 2010 and is a leading electronics manufacturer, providing the latest technology and reliability to all their charging and solar devices.
This portable solar charger provides good battery capacity at 12000mAh allowing you to charge an iPhone 7 three times and a Samsung S8 two times.
Where the product really shines though is its rugged build and quality making it one of the best solar panels for camping. The portable solar charger is both dustproof and shockproof. In addition, the housing is built with IPX7 waterproof material which ensures it works even on rainy days.
As with most solar panels with built-in batteries remember that the solar panel should be used only as a secondary source of power and in case of emergencies, due to the solar panel's small size and low power output. However, if you're going to buy a portable charger a solar panel makes a great additional feature to have, as it does give you a secondary and free source of power.
There are a couple of key factors when considering the best solar panels for your camping and hiking adventure.
---
Power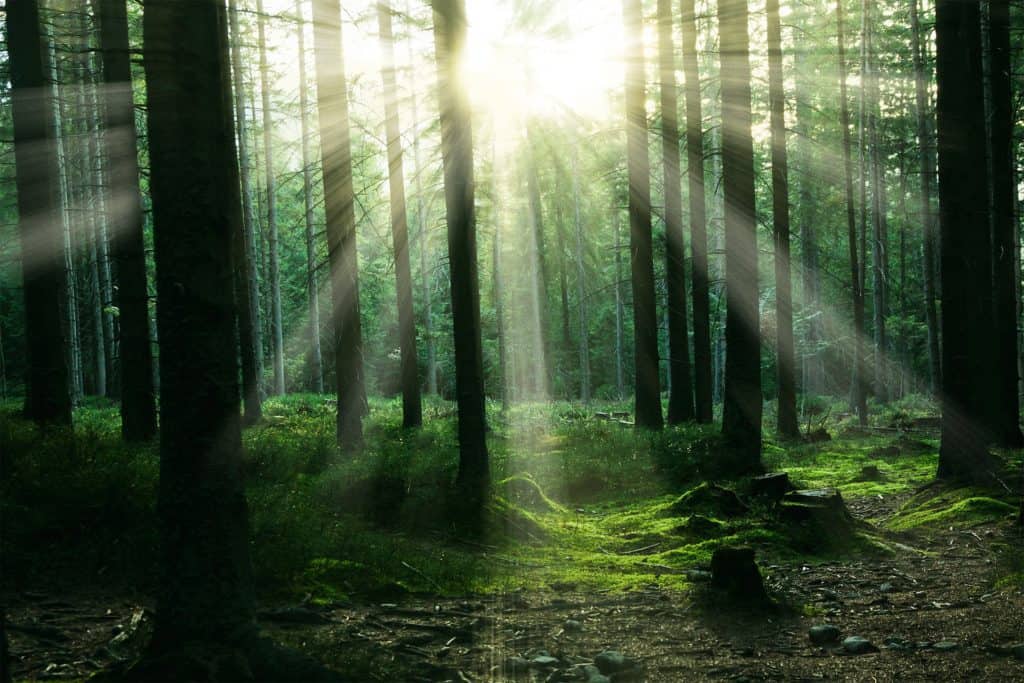 One of the most critical factors of the portable solar charger is the level of power that it can provide.  The higher the watt rating the faster the solar charger will be able to charge your device.  To save yourself a headache and hassle we recommend that you look for a  solar charger that produces at least 10 watts or greater in power. The only exception to this rule might be smaller chargers with built-in batteries which we will discuss more in design.
If your thinking you will just choose the highest watt rating to select your device keep in mind typically the higher watt rating means the panels will be larger in size and weigh more as well.
So when thinking about the best solar panels for camping, power is an important consideration but so is the device's portability as you will be carrying the device with you as you are hiking and camping.
Portability
When you are on the move while camping and hiking, portability can be one of the most important considerations for a solar charger.
Most manufacturers are very aware of this so many of the solar chargers have a folding portfolio design or a single panel no larger than a tablet.
So when considering the best solar panels for camping, look for one that is compact and lightweight but still has the necessary watts you need to charge your device.
Durability
As with all your outdoor gear durability and ruggedness is extremely important when it comes to portable solar panels because if they get damaged and stop working you can lose your power source to stay in contact, operate your GPS, or charge your headlamp.
When considering the best solar panels for camping durability look for products where it's obvious the manufacturer put thought into the durability of the product. Products made with heavy canvas or leather, some level of waterproofing, reinforcement at weak or moving points, and guards protecting photocells go along way to make sure your solar charger works when you need it to.
Design
As mentioned above there are several different types of designs when it comes to portable solar chargers.
The most obvious is the size, number, and configuration of the panels. Typically the greater the number and size of the panels the more juice the solar panels will provide. So if you know you are going to need more power or have multiple devices that need to stay charged you are going to be better off choosing a product with a larger charging array.
When selecting the best solar panels for camping it's also important to know if you will need to charge more than one device at once.  Some of the solar chargers can only charge one device at a time while others can charge two or three at the same time.
Perhaps one of the biggest design aspects that affect how you use the product is whether or not the product has a built-in battery.  There are some pros and cons to having a built-in battery on your solar charger.  Some advantages include the ability to charge your device regardless of whether there is sun or not, and the ability to use the solar panels to charge during the daytime and then plug your phone into the charger at night for charging.  This setup can be very advantageous as it is not always practical to have your device plugged into the solar panels during the day while you are trying to use the device.
Some of the disadvantages of having a built-in battery in your solar charger are they add additional weight and bulkiness to your solar panel. Also, solar panels with built-in batteries typically have much smaller solar panels and much lower watt output making charging your device solely off of solar impractical at best.
So when deciding on whether or not to have a built-in battery in your solar charger consider how you want to use the product. If you want to use solar charging as an emergency backup and plan on topping off the built-in battery before you leave on your camping trip then obviously the built-in battery is the way to go for you. In this case, the capacity of the battery becomes more important to you than the watts the charger can produce. When looking at battery storage capacity look for the highest mAh rating you can find which stands for milliamp hours. The higher the mAh number the larger the built-in battery capacity it has.
If on the other hand, you plan to charge your devices solely by solar power when camping then skip the battery and weight and look for a solar array with the highest watt rating keeping in mind portability.