The standard tent design has been around for thousands of years.  While there have been some slight improvements and variations to the tent over the years.  The basic concept has changed very little over the millennia.  Perhaps one of the biggest advancements in tent design came in 1959 when the company Eureka invented the first self-standing tent. Fast forward to today though and the standard tent has been flipped on its head.  There are all types of exciting new tent designs including the camping bed tent, the hammock tent, and the truck bed tent.
Perhaps one of the most interesting new tent designs in recent years is the camping bed tent.  Let's take a closer look at the camping bed tent and see what its advantages and disadvantages are compared to the standard tent design.
What is a Camping Bed Tent?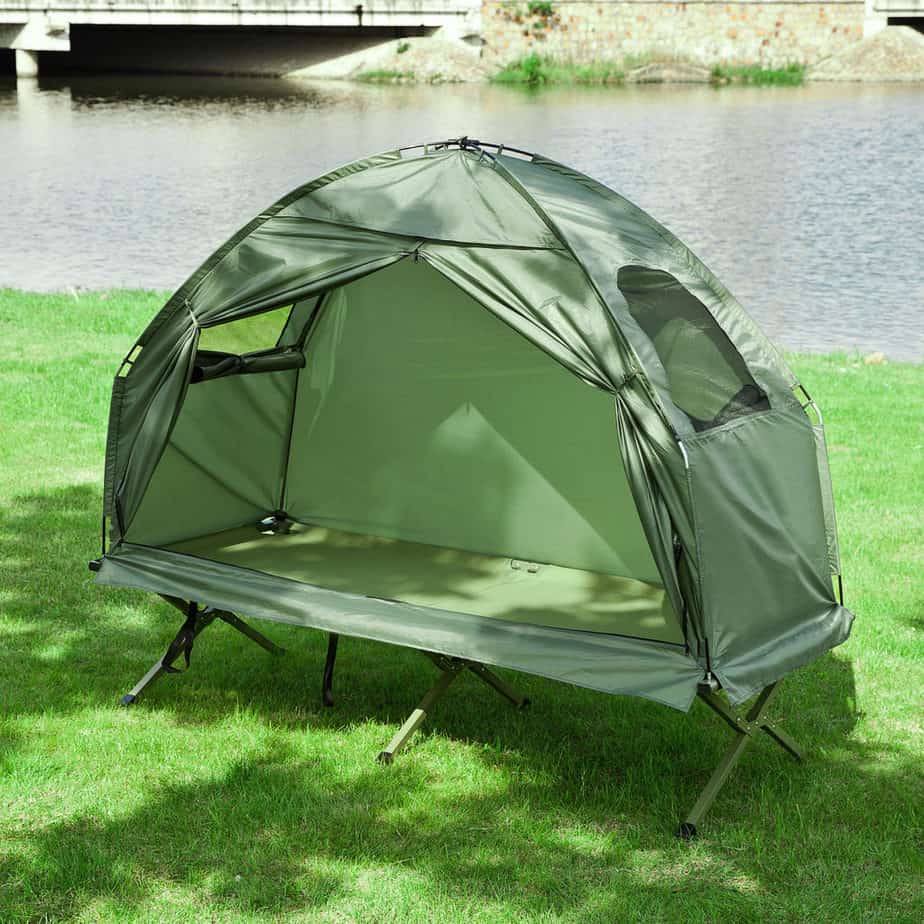 The camping bed tent is a combination of a tent and sleeping cot all rolled into one.  Camping bed tents can come in all different shapes and sizes and use a variety of materials and designs.  Because of the sleeping cot design, the camper sleeps on an elevated platform. The upper part of the tent consists of a sleeping enclosure which is usually a combination of mesh and nylon to provide protection from the elements and ventilation. 
Camping Bed Tent

Advantages
Camper and Camping Gear Stay High and Dry

More Comfortable Night's Sleep

Protection from Bugs and Snakes

Air Flow Under Tent Helps to Keep Cooler in the Summer and Warmer in the Winter

Easy Pop Up Design

Can be Used as a Bed or a Chair
Camping Bed Tent

Disadvantages
Bulky and Cumbersome

Heavy Design

More Complicated Design Creating More Potential Failure Points
Camping Bed Tent vs Standard Tent
The major differences between the camping bed tent and the standard tent come from their basic designs.  
The camping bed tent offers the ultimate in comfort and protection from the elements with its elevated sleeping cot design.  However, this additional comfort and protection come at the cost of a heavier and bulkier tent. Camping bed tents can weigh over 20 pounds as opposed to a standard tent which typically weighs less than 5.
On the other side, the standard tent is constructed directly on the ground sacrificing some on comfort and protection but offers a lighter and more compact tent design for camping.
So which is better the camping bed tent or the standard tent?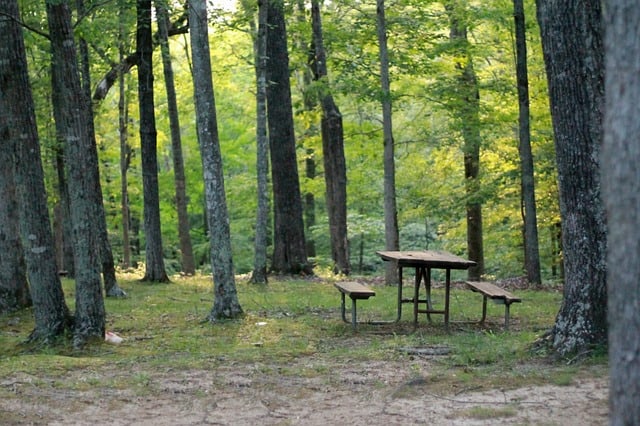 It really depends on what's most important to you as a camper and where you will be using the tent.  
If your goal is ultimate comfort and protection while camping than the camping bed tent might be the best choice.  However, all that comfort and protection comes at a cost. The camping bed tent is substantially heavier compared to a standard tent.  So if your campsite is more than a few hundred yards from your vehicle then the camping bed tent will not be the right choice due to its lack of portability.
If you're looking for a simpler and lighter tent option while camping and don't need ultimate comfort and protection.  Then the standard tent might be the better choice for you.  While you will sacrifice some on comfort and protection using a standard tent. Because of its small and compact size, it's the only option that makes sense if hiking or traveling with the tent.    
Top Choices for Camping Bed Tents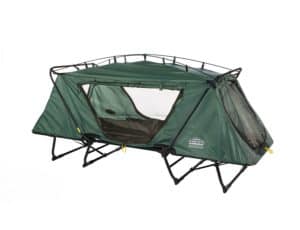 This camping tent bed was given one of the highest Amazon ratings with a rating of 4 ½ out of 5 stars.  The Kamp-Rite Oversize Tent Cot is everything the camping bed tent is supposed to be.
It's built with high-quality materials and construction that hold up well while camping outdoors.  The tent and rainfly do a great job of keeping the rain and elements outside. The tent also sets up and tears down very quickly.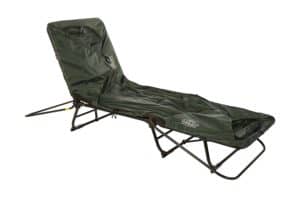 This camping tent bed is also a really nice size with more than enough room for you and a decent amount of gear.  As an added bonus the cot even folds from a flat position to a lounge position for additional versatility.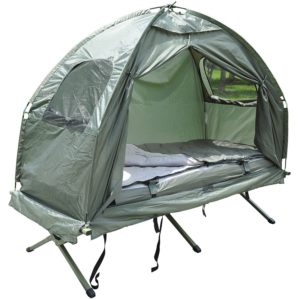 This single person tent really has it all when it comes to comfort while sleeping outdoors.  The tent not only comes with a cot but also comes with an inflatable air mattress and a sleeping bag.  
This tent even offers extra versatility by allowing the tent and cot to be separated providing more options and use cases while camping.  For example, if your camping in a campsite close to your vehicle then you could utilize the full camping bed tent experience with the tent, cot, and air mattress for max comfort.  However, if you are going to be hiking to your campsite then you could opt to leave the cot and air mattress behind just taking the tent to lighten your load while hiking.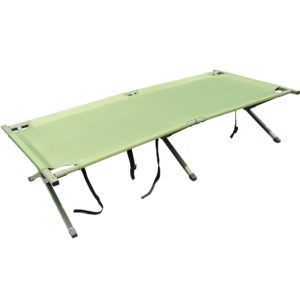 This camping bed tent by Outsunny also breaks down and packs away for easy storage and carrying into an included carrying case.
One negative that several campers mentioned though was the interior size of the tent.  Stating that the tent felt cramped and was not long enough for a comfortable night's sleep.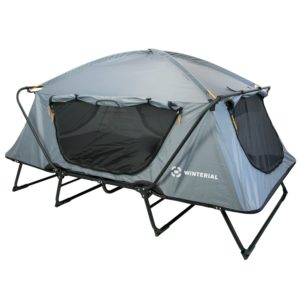 If you need extra space or additional sleeping room than this camping bed tent is for you.  At 46 inches across this camping tent bed will comfortably sleep two.
The Winterial Double Outdoor Tent Cot has an aluminum collapsible frame capable of holding up to 500 pounds.  In addition, the tent enclosure is constructed with heavy-duty nylon and incorporates four windows with insect screens.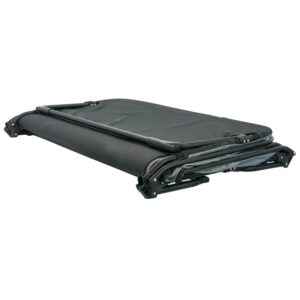 Because of its oversized nature, it is not the smallest camping bed tent but it does collapse down into an easier to manage folded design.  Also, the Winterial Double Outdoor Tent Cot can be easily set up and taken down within minutes.